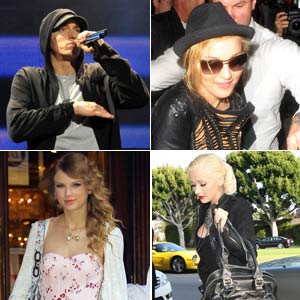 (Top, left) Eminem grabbed the most number of nominations in next year's Grammy Awards; (top, right) Pop icon Madonna is now dating a 24-year-old French dancer; (bottom, left) Taylor Swift was named by Entertainment Weekly as Entertainer of the Year; (bottom, right) singer Christina Aguilera is now dating a new guy just weeks after filing for divorce from husband Jordan Bratman.
Photo: Bang
EMINEM leads the 2011 Grammy nominations, with nods in 10 categories.
The "Not Afraid" rapper is in the running for some of the most prestigious prizes at the annual ceremony, including Album of the Year, Song of the Year and Record Of The Year.
Singer-and-songwriter Bruno Mars got the second most number of nominations when these (seven) were announced last December 1.
Lady Gaga, rapper Jay-Z and country act Lady Antebellum all scored six.
Bruno, who, among his nominations, is up for Best Male Pop Vocal for his "Just the Way You Are," said: "It's just been a great year, incredible, incredible year, and I can't believe this is happening to me.
"We've worked so hard trying to make a living doing music and the fact that we're here right now is incredible, incredible."
Another track co-written by Bruno, Cee Lo Green's "F**k You/Forget You" was nominated for both Record of the Year and Song of the Year, and Cee Lo said he never realized the track, which was edited to "Forget You" for the radio, would be such a hit.
He said: "It wasn't meant to be a radio song. It was meant to be something with flair and first impression and it really took on a life of its own, and I had no idea it would become what it is today."
In the Best Newcomer category, Justin Bieber found himself nominated alongside his fellow Canadian, rapper Drake.
He told LL Cool J, who hosted the nominations show at Club Nokia in Los Angeles, "It feels amazing. I can't believe I'm in this position! I don't know what to say!"
Among the performers at the nominations show were Katy Perry—who opened the proceedings with "California Gurls'"—Justin Bieber, rapper B.o.B, and indie group Train.
The 53rd Grammy Awards will take place at the Staples Center in Los Angeles on 13 February 2011.
Grammy Awards 2011 list of main nominations:
Album of the Year:
The Suburbs - Arcade Fire
Recovery - Eminem
Need You Now - Lady Antebellum
The Fame Monster - Lady Gaga
Teenage Dream - Katy Perry
Song of the Year:
"Beg, Steal or Borrow" - Ray LaMontagne
"Forget You" - Cee Lo Green
"The House That Built Me" - Miranda Lambert
"Love the Way You Lie" - Eminem feat. Rihanna
"Need You Know" - Lady Antebellum