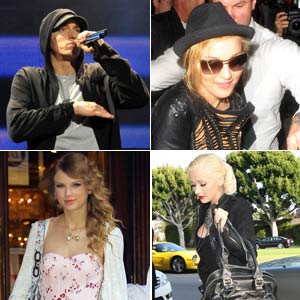 (Top, left) Eminem grabbed the most number of nominations in next year's Grammy Awards; (top, right) Pop icon Madonna is now dating a 24-year-old French dancer; (bottom, left) Taylor Swift was named by Entertainment Weekly as Entertainer of the Year; (bottom, right) singer Christina Aguilera is now dating a new guy just weeks after filing for divorce from husband Jordan Bratman.
Photo: Bang
Record of the Year:
"Love the Way You Lie" - Eminem feat. Rihanna
"Nothin' On You" - Bruno Mars
"Forget You" - Cee Lo
"Empire State of Mind" - Jay-Z feat. Alicia Keys
"Need You Now" - Lady Antebellum
Best New Artist:
Justin Bieber
Drake
Florence and The Machine
Mumford & Sons
Esperanza Spalding
Best Country Album:
Up On The Ridge - Dierks Bentley
You Get What You Give - Zac Brown Band
The Guitar Song - Jamey Johnson
Need You Now - Lady Antebellum
Revolution - Miranda Lambert
Best Rap Album:
The Adventures Of Bobby Ray - B.o.B
Thank Me Later - Drake
Recovery - Eminem
The Blueprint 3 - Jay-Z
How I Got Over - The Roots
Best Contemporary R'n'B Album:
Graffiti - Chris Brown
Untitled - R. Kelly
Transition - Ryan Leslie
The ArchAndroid - Janelle Monae
Raymond V Raymond - Usher
Best Pop Performance By A Duo Or Group With Vocals:
"Don't Stop Believin' (Regionals Version)" - Glee Cast
"Misery" - Maroon 5
"The Only Exception" - Paramore
"Babyfather" - Sade
"Hey, Soul Sister (Live)" - Train
Best Pop Collaboration With Vocals:
"Airplanes II" - B.o.B, Eminem & Hayley Williams
"Imagine" - Herbie Hancock, Pink, India.Arie, Seal, Konono No. 1, Jeff Beck & Oumou Sangare
"If It Wasn't For Bad" - Elton John & Leon Russell
"Telephone" - Lady Gaga & Beyonce Knowles
"California Gurls" - Katy Perry & Snoop Dogg
Best Dance Recording:
"Rocket" - Goldfrapp
"In For The Kill" - La Roux
"Dance In The Dark" - Lady Gaga
"Only Girl (In The World)" - Rihanna
"Dancing On My Own" - Robyn
Best Rock Performance By A Duo Or Group With Vocals:
"Ready To Start" - Arcade Fire
"I Put A Spell On You" - Jeff Beck & Joss Stone
"Tighten Up" - The Black Keys
"Radioactive" - Kings of Leon
"Resistance" - Muse
TAYLOR SWIFT named Entertainer of the Year.
The 20-year-old country singer, who made her acting debut in Valentine's Day this year, is the youngest-ever star to be given the honor by Entertainment Weekly magazine, which also paid tribute to the 2010 achievements of 14 other famous faces including James Franco, Kanye West, Katy Perry, John Hamm, and Ben Affleck.
In an interview to accompany her honor, Taylor—who is believed to be dating Jake Gyllenhaal and has previously romanced stars including Taylor Lautner and Joe Jonas—admitted that she laughs at constant speculation as to which of her former lovers she writes about in her songs.
She told the publication: "Sometimes I would laugh because I would see it in print and it would say, 'This song, which is written about her ex, so-and-so.' And they would write about it as if it was fact.
"The fact is, I haven't ever confirmed that any song is about any particular person. There's something kind of freeing about that. As far as I'm concerned, it's all still up in the air."
Taylor also spoke about why she decided to perform her song "Innocent"—which is rumored to be about Kanye—at the MTV Video Music Awards, a year after the rapper stormed the stage to protest her being given an award ahead of Beyonce Knowles.