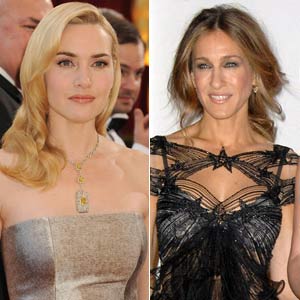 (Left) Oscar-winning actress Kate Winslet moves her children back to UK so that they can be with their father, director Sam Mendes, while he is filming the new James Bond movie; (right) Sex and the City star Sarah Jessica Parker has just bouth a new townhouse in New York reportedly worth $21 million.
Photo: Bang
SARAH JESSICA PARKER has purchased a new $21 million townhouse in New York City.
The Sex and the City actress—who has three children, James, eight, and 17-month-old twins, Tabitha and Marion, with husband Matthew Broderick—is moving from her current home in the West Village area of the city to 88 Central Park West.
According to The New York Observer newspaper, the new home, the former residence of philanthropist Laurie Tisch, features a 32-foot long living room, eight bedrooms, five bathrooms and five "half" bathrooms.
In addition, there are two walk-in wardrobes in the master bedroom of the property, which has seen its price drop by $3.5 million since August.
Although the purchase of the new house is believed to be complete, it comes after a long search to find a different New York home by Sarah Jessica and Matthew.
Earlier this year, they were believed to have been keen on a huge $24 million townhouse, as well as a penthouse on 54 Bond Street.
They were also rumoured to be interested in Madonna's old home in Central Park West, but nothing happened because the co-operative board of the building were angry about the 'Celebration' singer's constant noisy construction work.
NATALIE PORTMAN has branded her masturbation scene in Black Swan "disgusting."
The film, about two ballerinas battling it out for the lead role in Swan Lake, contains a particularly graphic scene in which Natalie's character Nina is caught by her mother pleasuring herself, and she admits it was one of the most uncomfortable things she has ever had to film.
She told MTV News about shooting the scene, describing it as "so disgusting."
Of her discomfort, she added: "It was akin to the experience of watching the movie with my parents sitting next to me, let me tell you!"
The movie also contains a scene where Natalie's character Nina and her rival Lily—played by Mila Kunis—have a lesbian romp, which Mila has revealed she asked her father not to watch when they attended a screening together.
She said: "He was like, 'I don't think I should see the movie. I was like, 'See the movie. There's going to be a point; get up and leave.'
"I don't think any dad should see. It's just not necessary."