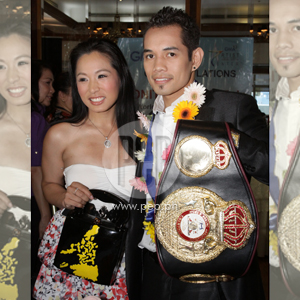 World Boxing Association (WBA) Super Flyweight champion Nonito "The Filipino Flash" Donaire Jr. poses with wife Rachel Marcial-Donaire.
Photo: Noel Orsal
"'Did I accuse him of stealing? Never, I never did,' the elder Nonito said.
HE TRIED TO BE LIKE PACMAN. "Nonito Jr. tried very hard to make himself look like Manny Pacquiao, like growing up very poor, with almost nothing to eat, no food at the table, smallest share in the table. Nanay Donaire said they were poor but not as poor as his son said.
"Nanay told me she was a teacher and Dodong was a soldier, there was always food at the table, maybe not [a lot] but [there] was always enough for everybody.

"Nanay Donaire was also surprised that Nonito Jr. was jealous of Glenn.
"Growing up, Junjun recounted that his my family always said, 'Glenn's good-looking. Glenn's better than you, Glenn's this and this. Glenn's the best.'
"'Anthony, I am very sad to read this one, how can he carry this in his heart? If he thinks that he was overlooked he should have shut his mouth. His brother Glenn even supported him because he was not working, he only boxed,' Nanay Donaire said.
"'Glenn gave him money, or shared his money, and he didn't care because he is his brother and they have a pact. No he can't mention those things, we never did that to him.'

NEW RULES. "Nanay Donaire recalled that when she watched her son fight in Manila, the first thing Rachel's dad did was to give her the rules: She can't go near her son anytime she wants, she can't always ask for something from the son... she can't go in to the ring in case Junjun wins.
"She told me that she threw that paper away, she only read a portion of it... Now the time comes, Junjun won, if my recollection is correct, he knocked out Raul Martinez in 4 rounds, and GMA TV approached Nanay Donaire and she stood up, and Nonito's new mommy (Rachel's mom) reacted right away and said: 'Why did you get up? Did you [not] read the rules?'
"Nanay Donaire, being polite, answered, 'I can't make those GMA guys wait for me...'

"Still in Manila, she said she had a room provided by her son, but that afternoon, Rachel told her to just go downstairs and stay with five other relatives (room is very small though) because her room will be given to Dr. Ed Dela Vega. (The doc is more important than the mom? Hmmm...)
"But she knew that Doc Ed was in another room... [then] she learned the room was given to a bodyguard commissioned by Rachel.
INVITE TO JAPAN. "Recently, Nanay Donaire was invited by her son to visit him in Japan. Nanay jumped at the opportunity. First she missed Nonito a lot and she thought this was maybe the chance to salvage a compromise. She told me that her main purpose was to bring peace and reconciliation.
"Nanay asked her son, 'Why don't you call us anymore?'

"The son said, 'I totally forgot about you guys, coz I'm happy with my new family.'
"'You know your dad lost his job and he has some kidney problem, maybe you can help him,' Nanay said.

"The son replied: 'If it is God's will it is God's will.'

"'Jun, your dad made you a champion, he sacrificed a lot for you, he quit his job and lost his retirement,' Nanay pointed out.

"The son, in an arrogant manner, said 'That's his fault that he lost his retirement, no mercy and no guilt towards him.'

"'Jun, I thought you said that we'll help each other once you become a champion,' Nanay said.

"'That was before, mom,' the misguided son said.

"'Jun, your dad has a note for you... no time to reconcile and no time to read.'
WHY IS HE DOING THIS TO HIS DAD? "Donito Sr. said: 'I don't know why he's doing this to me. I love all my kids because I lost my dad when I was 3 years old... So when I read all his lies, it crushes my heart and it hurts his brothers and sister also.
"'I didn't force him to box either, he chose to do karate, he could do the split... but when he saw Glenn win trophies, he told me that he'll box also. I dragged them on weekends to run, I held both their hands to run in the Marina. There was no jealousy at all, we were happy. We had a goal to help each other, we had a pact.'