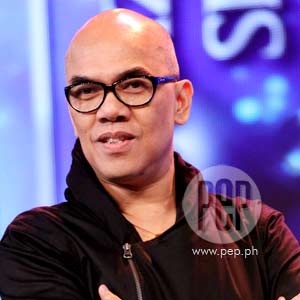 Boy Abunda's 40-minute interview with Baron Geisler did not just tackle the issue. He tells PEP (Philippine Enetrtainment Portal), "We talked about the parents, we talked about the brother, we talked about the family, we talked about the childhood. Remember, I was the last interviewer [in the presscon held on January 21], I had to do a holistic interview."
Photo: Noel Orsal
"I did not express, I did not indicate, and I did not imply that brilliance is an excuse to abuse anyone," says Boy Abunda about his The Buzz interview with Baron Geisler last January 23.
This is just a part of his reaction to the sentiments of Ed Instrella, Cherry Pie Picache's manager, on the way the segment of the 29-year-old actor accused of harassment was handled by the Kapamilya talk show.
It's not typical of the famous host to offer a lengthy explanation about a controversy involving himself.
"Hindi naman ako pala-react kasi," he begins. "It's as if I defended my article when I defend my body of work. Parang ang hirap-hirap ipagtanggol ang sarili mong trabaho."
But his 17-year stint as a showbiz talk show has taught him two things: (1) His statements can affect people. (2) His statements can have varying effects on different people.
In this case, he asked the permission of Roxy Liquigan, creative consultant of The Buzz: "Let me react."
That's after learning about the article (CLICK HERE) posted in PEP (Philippine Entertainment Portal) yesterday, January 24.
One of the arguments raised by Ed Instrella was, "Boy emphasized and underlined he's [Baron] such a good actor. Parang justified maging bastos in the name of good acting."
Boy affirms during his 30-minute interview with PEP at 2:00 p.m. today, January 25, "I said that he was brilliant. But what was the context? [Baron says] 'Tito Boy, I'm going to be on rehab for 90 days.' I said, 'Baron...'
"There were two things that I said. Buti na lang naaalala ko kasi fresh pa. 'Baron, you are a brilliant actor. You will always have space in the industry.'
"But, in no way did I suggest that brilliance is an excuse to harass anyone. It was in that context.
"Sinabi ko pa sa kanya, exact word ko, 'You know, Baron, you are lucky. You are lucky because the industry has been good to you in spite of all your cases. You have jobs. You have good jobs. You have been given jobs and work.'"
THE NOW-CONTROVERSIAL INTERVIEW. Instead of focusing on the harassment issue alone, the management of The Buzz decided to do a profiling of the interviewee.
In a phone interview with Liquigan at around 6:43 p.m., he says, "We want to make it different from the other shows, so ang topic namin aside from the issue, 'Why is he like that?'"