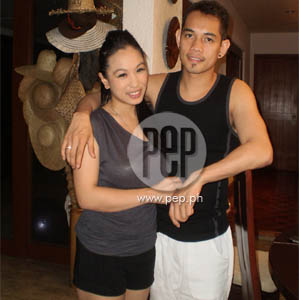 The past few weeks have been stressful for the Donaire couple. While Nonito Jr. was busy training for his bout against Fernando Montiel, his wife Rachel made sure her husband had everything he needed, including a "shield" from the controversies surrounding the boxer's family.
Photo: Karen A. Pagsolingan
Nonito Donaire Jr.'s most recent fight with Fernando Montiel earned for him a double victory.
First, he won the WBC and WBO Bantamweight World Champion title. Second, he became his father's son again.
PEP (Philippine Entertainment Portal) had the chance to talk to the boxing champ and his wife Rachel at the house of the latter's parents in Alabang last March 14. During the one-hour exclusive interview, the couple talked about the events that led to the end of Nonito Jr.'s almost three-year-old feud with Nonito Sr. (CLICK HERE to read related story.)
"We [finally] got to communicate, to talk," was how the 28-year-old boxer described the fateful dinner with his father on March 3.
Initially, we sensed Junjun's (Nonito's nickname) hesitation to talk about the feud. He had this "a-family-matter-remains-within-the-family" stance at the start of the interview. Slowly, he began to relax and open up about the controversy and its aftermath.
BEFORE THE FIGHT. "I knew a little bit... that something was going on. When I saw the article, I didn't [realize] how big it got," he said.
The Filipino-American fighter was referring to his interview with Tris Dixon that was published on the website of Boxing News magazine last January 6. It was one of the few times he discussed his sentiments about his family. Following is an excerpt:
"All my life, I have done everything for my family," he says, leaning forward and with an expression that shows the opulent surroundings actually count for very little.
"Even my subjects in school, it was them who picked my subjects, it wasn't me. Everything that I did was for them. Anything and everything they've wanted me to do I have done. I was one of those kids who wanted my parents to be proud of me. I wanted my parents to be happy. I didn't want to be a burden to them.
"I have never been in trouble at all. And when I finally became my own man; they were not ready to accept that. When I chose my wife, they were not ready to accept that. They did not want me to get married, they just wanted me to keep doing things that I've done for them and they wouldn't accept my wife."
Almost a week later, his mom—Imelda Donaire—issued a statement through Anthony Andales of philboxing.com. (CLICK HERE to read story)
Up until a few days before Junjun's February 20 bout, the family feud was fodder for the media.
While his mom and dad gave interviews left and right, the boxer was oblivious to what was being said and written against him and Rachel.
Junjun said, "She [Rachel] pretty much sheltered me. But the thing is, it's something that was already there, you know... There's something mga ganun-ganun... But I really just focused on my fight and tried not to be distracted."