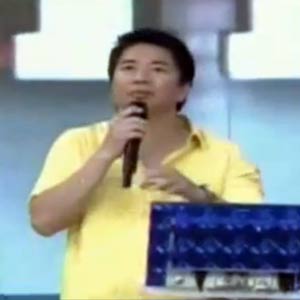 Willie Revillame interviews a six-year-old contestant during the March 12 episode of Willing Willie. This particular segment of the TV5 variety primetime program prompted varied reactions from viewers who perceived it as no less than "child abuse."
Photo: Screen grab from YouTube
A live episode of TV5's Willing Willie has sparked outrage and re-ignited a hate campaign against the program's host, Willie Revillame.
The March 12 episode of the primetime variety and game show featured a six-year-old boy performing a sexy dance multiple times, to the amusement of the studio audience. (CLICK HERE to watch the video.)
In Willie's words, the kid is acting like a "macho dancer"—or in local parlance, a male prostitute.
The name of the kid is Jan-Jan. His aunt, Jocelyn, accompanied him to Willing Willie's Novaliches studio.
This segment of the episode has been uploaded on YouTube, a video-sharing website, where it attracted a number of viewers. At press time, the video has been viewed 291,889 times.
Many video viewers have posted comments. The majority have commented that the segment was "done in poor taste." A number of others have gone so far as to call it "child abuse." There have been many posts of hurtful name-calling. The viewers who placed blame zeroed in on Willie and the boy's parents.
A few entertainment personalities have already weighed in with their opinions—including Lea Salonga, Jim Paredes, Bianca Gonzales, and Kat de Castro. All of them have said that the incident is nothing short of "child abuse."
TALENT PORTION. Willing Willie is a primetime variety and game show on TV5, aired Mondays to Saturdays. It carries a number of games that aims to amuse the audience and to send them home with attractive amounts of cash.
The main segment is called "Wiltime Bigtime." It pits six contestants with each other, each fitting a chosen theme for the day. The themes determine the set of contestants for the day, and can range from housewives to kids to soldiers to jobless men.
"Wiltime Bigtime" has two rounds: the elimination round "Kantanong" and the jackpot round "Spin a Wil."
Willie introduces the contestants one-by-one during "Kantanong." He also interviews all of them, with the end goal of having them reveal the story of their lives. The contestants are quite willing to share a great deal, too.
The contestants are also asked to show off a talent, which will earn them a cash reward. Willie decides how much money he will give a contestant, depending on the talent shown, crowd approval, and the host's own taste. Talents to be demonstrated can be anything: singing, dancing, acting, or even reciting a poem.
WILTIME BIGTIME. A boy called Jan-Jan was one of the contestants in the March 12 edition of "Wiltime Bigtime." All of the six contestants were children.
[Under this subhead, PEP summarizes the contents of the video from YouTube. The ten-minute video has been edited to include only segments featuring Jan-Jan.]