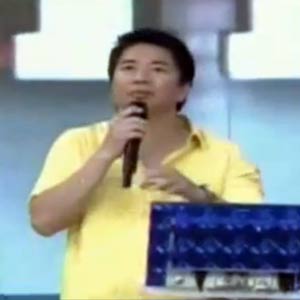 Willie Revillame interviews a six-year-old contestant during the March 12 episode of Willing Willie. This particular segment of the TV5 variety primetime program prompted varied reactions from viewers who perceived it as no less than "child abuse."
Photo: Screen grab from YouTube
The small boy carried a blank face when he was called to the microphone. This prompted Willie to call Bonel Balingit, a formal basketball player, from the audience. The tall Bonel then stood beside the short Jan-Jan while Willie said, "Ano Jan? Suntukan, gusto mo? Parang naghahamon ka ng away!"
Willie then laughed and asked a high-five from the kid, which Jan-Jan gave easily.
Willie then permitted Jan-Jan to say his greetings. What the kid said elicited huge laughs from Willie and the audience. The kid, however, did not laugh. His face remained as it was-serious, with a tinge of sadness.
Jan-Jan said, "Binabati ko si Papa ko, may parlor! Tsaka si Mama, may birthday!"
Willie asked, "Yung tatay mo may ano?"
Jan-Jan replied, "Parlor."
Jan-Jan looked confused when his answer produced huge laughs again from Willie and the audience. Willie then asked him, "Bakit may parlor ang tatay mo? Ano siya?"
Jan-Jan replied, "Kasi para hanapbuhay."
Willie stopped laughing, softened up, and asked, "Anong ginagawa niya sa parlor?"
Jan-Jan said, "Gugupit."
Willie, still soft on the boy, asked, "Siya ba naggupit sa 'yo?"
Jan-Jan said yes.
Willie then asked him who his favorite singer was, to which the kid replied, "Di po ako kakanta." Jan-Jan smiled a little when this answer led the audience to laugh again.
Jan-Jan then introduced his aunt, Jocelyn, who accompanied him to the studio. He told Willie that his mother could not come to the set because she just gave birth.
Jan-Jan's Tita Jocelyn, all excited, then asked Willie for a hug. "Kuya Willie, may request. Puwede ba kita mayakap?"