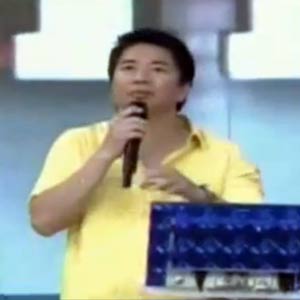 Willie Revillame interviews a six-year-old contestant during the March 12 episode of Willing Willie. This particular segment of the TV5 variety primetime program prompted varied reactions from viewers who perceived it as no less than "child abuse."
Photo: Screen grab from YouTube
"grabe sila noh? kala mo kung sinong righteous. sows!" commented libetta.
LATEST UPDATES. This afternoon, the Movie and Television Classification Board (MTRCB) released its statement on the incident. Underlining the Board's duty to protect the rights of children, the MTRCB statement says in full:
"BRIEFER ON "WILING WILLIE" REGARDING COMPLAINTS OF CHILD ABUSE
"The Board received numerous complaints about the 12 March 2011 episode of 'Willing Willie' aired over Kapatid Network TV5 where a six-year old boy contestant was shown to be gyrating and impersonating the body movements of a macho dancer.
"In accordance with the Board's duty to enforce the Constitutional mandate that the State shall defend the rights of children from all forms of neglect, abuse, cruelty, exploitation, and other conditions prejudicial to their development, the Board has referred the matter to the Hearing and Adjudication Committee for appropriate disposition.
"The Board further emphasizes that whenever children are featured in television programs, producers are mandated to observe legal standards stipulated in R.A. 7160 to avoid "psychological abuse xxx cruelty, sexual abuse and emotional maltreatment" and "any act by deeds and words which debases, degrades or demeans the intrinsic worth and dignity of the child."
"MARY GRACE POE LLAMANZARES
"Chairperson"
On the other hand, Department of Social Welfare and Development (DSWD) Secretary Dinky Soliman has sent a statement to Yahoo! OMG! Philippines. Soliman said she will write a letter to TV5 to ask them not to include children in the show.
Here is Soliman's letter:
"I will write a letter of protest to Channel 5 (and) to Mr. Manny Pangilinan regarding the case and we should all write him and demand that children should not be part of the show. They should not be used as instrument for enjoyment and to be laughed at. I will send the communication today."
PEP is open to publishing the statements of the figures mentioned in, and affected by, this article.