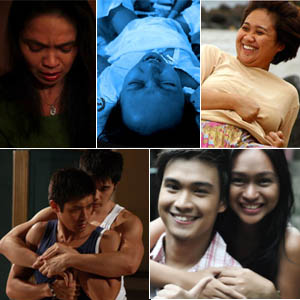 Five of the New Breed Cinemalaya 2011 entries: (clockwise from top right) Eugene Domingo in Ang Babae Sa Septic Tank; Edgar Allan Guzman and Mercedes Cabral in Ligo Na U, Lapit Na Me; Rocco Nacino and Paulo Avelino in Ang Sayaw ng Dalawang Kaliwang Paa; Maria Isabel Lopez in Cuchera; and Janna Marie Tiangco in Bahay Bata.
Photo: Courtesy of Cinemalaya
Independent filmmaking has rapidly grown in the Philippines in the past seven years.
Thanks to the unwavering support of institutions such as the Cultural Center of the Philippines (CCP), Film Development Council of the Philippines, Ecolink Investments Inc., and the Cinemalaya Foundation, younger filmmakers have become more inspired to hone their craft while more and more Filipino audiences are introduced, and eventually get hooked, to the art.
This year, the Cinemalaya Philippine Independent Film Festival promises to be even bigger and better with more films in exhibition bearing stories of passion, memory, truth, despair, obsession, terror, and splendor.
Some of these films will be featured under new sections of the festival.
For the first time in Cinemalaya, Focus Asia which will feature films by various Asian directors from Korea, Thailand, Malaysia, Indonesia, China, Vietnam, Singapore, and Japan.
This was brought about by a clamor for more Asian indie films to be shown in the country, which was noted by festival director Nestor Jardin.
The Ronwaldo Reyes Retrospective, presented in cooperation with the Society of Filipino Archivists for Film, is another new section of the festival that will feature old works by some of the most celebrated filmmakers in the country.
On its first year, it will showcase some of the directorial works of the late King of Philippine Movies and National Artist Fernando Poe Jr.—whose pseudonym as a director was Ronwaldo Reyes.
The Cinemalaya Documentary section presented in cooperation with Calata Corp. will feature a number of documentaries showing the true face of Philippine society.
The NETPAC Philippine Premieres, which is another competition category, features eight films vying against each other.
The Ani Section will showcase some of the best Filipino indie films of the past year.
Kids Treats, as the name suggests, will feature indie films for children, while the films in the Midnight Specials section tackle more adult themes.
Apart from these new sections, Cinemalaya will also organize the Cinemalaya Film Congress with the theme "Building Bridges Across Asia Through Films," which will hopefully strengthen the independent filmmaking scene, not just in the Philippines but the entire region.
The Sine Taktakan forums will also be held within the festival with lectures and exhibits by the 2011 Cinemalaya filmmakers.