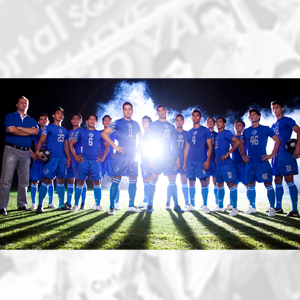 Last Friday, July 1, the Azkals team was launched as the new brand ambassadors of Cortal SQR, which announced its commitment to help the country's football stars.
Brand manager Anton Panajon said, "We're actually behind them all the way." Then, addressing the players, he added, "We believe, kaya niyo 'yan."
Photo: courtesy of Cortal SQR
"We're not feeling any pressure at all," said the Azkals head coach Hans Michael Weiss about the game tomorrow, July 3, against Sri Lanka.
He added that the guys have been working so hard, and "they already know what to do once they're out there."
At the launch of Cortal SQR, the team's new endorsement, yesterday, July 1, the country's football players seemed more excited than nervous.
Team captain Aly Borromeo told PEP.ph (Philippine Entertainment Portal), "We know how the [opponents] are on the field. We're stronger as a team, I mean, team work is gonna be very much evident, so we're gonna score that goal."
The game is crucial to Sri Lanka, "One goal for them is pretty important," explained Aly.
Even if the other team will score that one goal, "we'll still be going through, we'll be qualified."
But such fact doesn't mean they have the reason to feel complacent.
Aly assured the Pinoy fans, "We're not gonna settle back and be confident all the time. We're gonna score some goal."
BIG-TIME AZKALS? The growing support for the team has been inspiring the players to "keep winning games," said Ali.
And how things have changed for the better. "One of the reasons why we are called Azkals is we look for scraps for food," related Ali.
But now, team manager Dan Palami revealed, "The team is in a better position."
However, the kind of support they're mostly getting only helps in alleviating the expenses.
In a matter-of-factly tone, Dan said, "We're spending less. We get discounts sa flight, discounted hotel bookings, which does not really mean that money is getting into the team.
"It's difficult. It costs a lot of money to maintain a football team. With like 25 players and seven staff. That's 32.
"When you travel, when you stay in a hotel, especially when you prepare for strong tournaments, then, you spend a lot more, I mean, going to Germany for training camp, or even just going to the place where you'll compete, just like Sri Lanka."