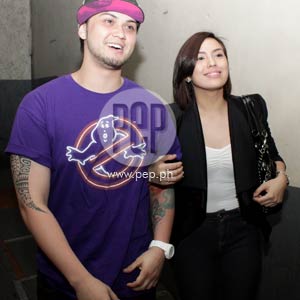 Nikki Gil and Billy Crawford have been together for three years now and they're still going strong. Nikki says that at 29, Billy seems to have his mind set on getting married and he has talked to her about it already. As for Nikki (who's now 23 years old), she says she'll cross the bridge when she gets there.
Photo: Noel Orsal
Singer-actress-VJ Nikki Gil is set to star in the 9 Works Theatrical production of Sweet Charity which starts showing on August 5 at the Carlos P. Romulo Theater.
In this local adaptation of the classic Bob Fosse dance musical, Nikki portrays the lead character Charity—a kind-hearted taxi dancer who is trying to find her true love.
In real life though, Nikki seems to be the exact opposite of her character. For the last three years, she has been in a quiet relationship with international R&B artist Billy Crawford.
"[It's been] three years," says Nikki. "I believe [in showbiz] it's like times seven, parang doggie years.
"Not to say that ano, [pero] sobrang challenge 'yon. Definitely it hasn't been a walk in the park."
Though not constantly hounded by intrigues, Nikki says their relationship hasn't been easy to maintain. Especially since they are both busy with their respective careers.
Nikki juggles her time between her TV and theater commitments, while Billy continues to work on his music day in and day out.
So how do they make it work?
"He's busy, I'm busy. [But] we don't ever put that pressure on each other.
"We both understand the demands of our work. He understands the demands of theater, I understand the demands of what he does.
"I mean, he doesn't have a weekend. He works Monday to Sunday and so, with what free time we have, we make do with that."
Does it help them that they don't get to spend a lot of time together?
"It's [actually] good. It helps the relationship. Kasi matagal kayong hindi nagkikita, so you miss each other.
"And by the time we see each other, and when we do see each other, super kuwentuhan kami. Gano'n.