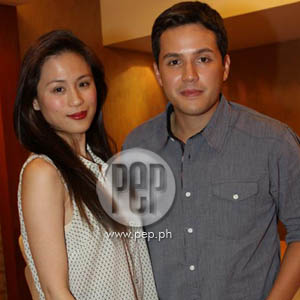 Direk Paul Soriano appeared on The Buzz yesterday, August 28, for a sit-down interview with girlfriend Toni Gonzaga. The director answered some of the fastest and controversy-laden questions he ever faced.
Photo: Noel Orsal
It was an exciting experience for the studio audience of The Buzz yesterday, August 28, to see one of its hosts, Toni Gonzaga, conduct the interview herself with Paul Soriano.
Looking a little nervous and more excited, Toni welcomed her real-life boyfriend onstage as the fans cheered.
Earlier, it was revealed by the showbiz talk show that Paul might pop a question for Toni after her usual questions.
But before all that, a little was revealed about the director.
Paul's dad, director Jeric Soriano—thru a VTR presentation—described his son this unique and heartwarming way:
"He'll listen not only to your words, but also to your heart.
"What makes Paul happy is when he sees his mother and me happy.
"Paul will drop everything if you need him and his help. He will be there for you.
"He totally wants your life to be good and well. Whatever he can do for you to achieve that, he will do that for you.
"That's my son Paul."
BEING THERE. After the VTR special, it was time for Toni to interview her boyfriend one-on-one.
Is it really true that he'll do everything to make his friends and family happy?
"Of course," Paul began. "I love my family. I'll do everything for them and they'll do everything for me."
"I think I'm part of the family as well," mused Toni amidst the crowd's cheerful approval.