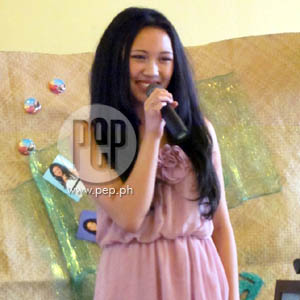 "I am so thankful for what they did and I will never forget this. This is an experience that I will cherish for a very long time," says Thia Megia about the surprise fans' day the Thianatics prepared for her.
Photo: Ruel J. Mendoza
"My cousin Rio is very close to me.
"Even though I'm in the U.S., we keep in touch because she's in Pampanga.
"She was forever supporting me in whatever I do, especially when I became one of the finalists in American Idol.
"She was always rooting for me and had people supporting me."
Kuwento pa niya, "She was only 17 years old and had a one-month-old baby.
"From what I learned from my relatives, she died in her sleep. She never woke up.
"I really cried when I got the news and I was supposed to meet up with her finally because we were going to Manila for the concert.
"But weeks before we were able to fly here, she already passed away.
"I am praying for her every day and I know that she's an angel now, and she's always out there watching over me and forever supporting me.
"I will miss her and God knows how much I love her."