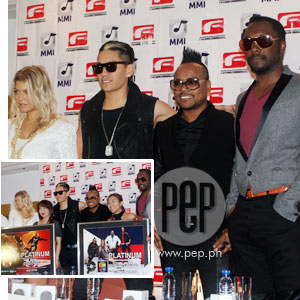 "Bring your dancing shoes and we're gonna be jumping all night and have a good time," says Black Eyed Peas Pinoy member Apl.de.Ap (third from left) about their one-night-only concert tomorrow, October 25, at the SM Mall of Asia concert grounds in Pasay City.
The group—composed of (from left) Fergie, Taboo, Apl.de.Ap, and will.i.am—was given a four-platinum award and a platinum award for their albums The E.N.D. (The Energy Never Dies) and The Beginning, respectively.
Photo: Monching Jaramillo
Before the press conference ended, Apl.de.Ap mentioned that he'll be making a special announcement during the concert.
The singer is still not allowed to say anything about it, but he hinted, "I'll be announcing a new partnership at the show.
"Make sure you'll come so you'll know what it is."