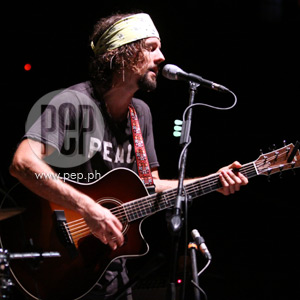 American singer-songwriter Jason Mraz (in photo) performed with percussionist Toca Rivera last October 30 at the Araneta Coliseum. Jason expressed his support for the anti human-trafficking campaign: "Real men don't buy girls."
Photo: Wilson Chua
Just seeing Jason Mraz come out on stage and strumming his guitar already sent fans screaming at the Smart Araneta Coliseum last Sunday night, October 30.
Wearing a yellow bandana and a statement shirt with the word "PEACE," Jason Mraz serenaded his Pinoy fans who watched his two-hour concert.
The American singer-songwriter, who performed with percussionist Toca Rivera, greeted the jampacked crowd with: "Mabuhay Manila!"
Jason, who performed in the Philippines in 2009, admitted that he is more used to performing in intimate venues.
"Thank you so much for this opportunity...but I don't think [this venue] is big enough to hold the love," said Jason, prompting the crowd to cheer for the acoustic singer.
He started off by singing his song titled "She's the Bomb."
Jason then motioned for the crowd to clap and give a steady rhythm as he performed his next song. He asked the audience to give a high-five to their companions and even to strangers beside them.
He told everyone "Good job!" before performing his rendition of "The Dynamo of Volition."
The Grammy award-winning singer was well applauded when he sang "If It Kills Me" which he arranged with The Beatles' "Across the Universe."
Other well-received numbers were his version of "Fly Me to the Moon," A Beautiful Mess" and "93 Million Miles."
When Jason sang "You and I Both," almost everyone stood up to sing along.
The atmosphere became electric when Jason performed his original song, "The Remedy," that segued into Oasis's "Wonderwall."
After singing "Details in the Fabric" and "Life is Wonderful," Jason and Toca went down from the stage, but the crowd stayed put and kept chanting that they wanted more.
The 34-year-old singer did return, during which time he took the opportunity to inform everyone about his support for the ANTI HUMAN-TRAFFICKING MOVEMENT TO END MODERN-DAY SLAVERY.
Last October 29, Jason was one of the artists who performed during the MTV EXIT Live in Manila concert held at the SM Mall of Asia concert grounds.