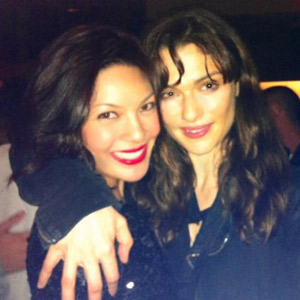 KC Concepcion (left) attended Tim Yap's birthday party that had Rachel Weisz (right) as one of the guests. (CLICK HERE to view photos of Rachel during her first shooting day in Manila.)
Photo: From Mark Nicdao's Twitter account
According to a report of GMA News, several Filipino actors will be part of this international film.
The report quoted Lou Veloso as saying that auditions for the movie took place in September 2011.
Aside from Lou, John Arcilla will also be part of the fourth installment of the Bourne franchise.
Veteran performers Madeleine Nicolas, Ermie Concepcion, and Lilia Cuntapay also passed the auditions for the cast.
The 76-year-old actress, Lilia Cuntapay, is best known as an extra in local horror flicks.
She was hailed as Best Actress during the 7th Cinema One Originals for the indie film Six Degrees of Separation from Lilia Cuntapay. (YES Magazine's February issue features Lilia.)
(CLICK HERE to view photos of Rachel during her first shooting day in Manila.)