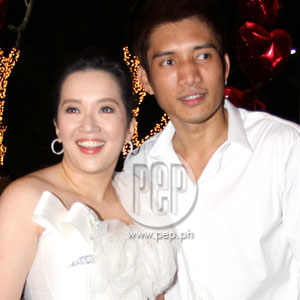 When asked about details of the settlement between Kris Aquino and James Yap, the former's legal counsel Atty. Sharlyne Goboy-Lapuz (not in photo) said, "The parties settled the matter amicably and privately...The lawyers were out of it. The agreement was submitted to the judge and the judge approved it."
Photo: Noel Orsal
"Before you get married, you should be careful with the requirements of the law," wise words from Kris Aquino's lawyer, Atty. Sharlyne Goboy-Lapuz, an associate of MOST Law firm (formerly Marcos Ochoa Serapio & Tan).
The marriage of Kris to James Yap was annulled not because of their marital problems, but because they did not fulfill certain conditions required by law.
"Getting married is not...should not be easy...You don't [rush] into marriage," said Atty. Lapuz.
Several important requirements were overlooked during the hasty wedding of Kris and James.
The couple tied the knot on July 10, 2005 after a five-month courtship.
First, the lack of authority of the solemnizing officer...
In an exclusive interview with PEP.ph (Philippine Entertainment Portal) and YES! magazine last February 3, Atty. Lapuz elaborated:
"Based on the records that we discovered, ahm, relating to the marriage of the parties... the solemnizing officer was a lady minister from a religious sect called [the] Holy Sacrament International Church.
"Holy Sacrament International Church is not a Roman Catholic sect.
"And based on the application for marriage license of the parties, it is stated there that both parties are Roman Catholic."
Article 35 Section 2 of the Family Code of the Philippines, issued as Executive Order No. 209 by Kris's mom, former President Corazon Aquino, in July 1987, states that a marriage "solemnized by any person not legally authorized to perform marriages, unless such marriages were contracted with either or both parties believing in good faith that the solemnizing officer, had the legal authority to do so," shall be void from the beginning.
Atty. Lapuz continued, "Under the law, for a solemnizing officer coming from a religious sect, church, or other religious organizations, at least one of the parties should be a member of that religious sect.
"The marriage of Kris and James was solemnized by a lady minister of an obscure religious sect called Holy Sacrament International Church.
"None of the parties is a member of this religious sect, and thus, it was declared null and void."
Second, the person who solemnized the wedding rites...