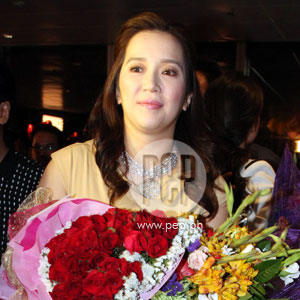 Atty. Sharlyne Goboy-Lapuz describes her client, Kris Aquino, as very cooperative: "She replies. She's hands-on."
Photo: Noel Orsal
It took the court one year and a half to declare the marriage of Kris Aquino and James Yap null and void.
The decision, according to some kibitzers, came fast and was released right away because of her famous last name.
Kris's legal counsel, Atty. Sharlyne Goboy-Lapuz, dismissed these speculations, citing "legal grounds" for the court's decision granting her client's petition after one year and a half.
Atty. Lapuz explained, "Our contention, at least for the lawyers, ha, and you can quote us on this, we're very confident that the marriage is null and void, totally null and void, just because of the lack of authority of the solemnizing officer.
"Based on the records, you can already see both Roman Catholics being married by a minister of a religious sect, Holy Sacrament International Church."
SIMILAR CASES. A number of showbiz ex-couples have gone through the process of getting a marriage annulment.
On June 21, 2005, Kristine Hermosa filed her petition on the grounds of "technical irregularities," as her former spouse Diether Ocampo put it.
She argued that a marriage certificate was not given during the ceremony solemnized by Mayor Antonio Esquivel on September 21, 2004 in Jaen, Nueva Ecija.
(CLICK HERE to read related article.)
In 2007, the Lower Court issued a resolution in favor of the actress, but a solicitor general made an appeal.
(CLICK HERE to read related article)
The final decision was released by the Court of Appeals in 2009.
(CLICK HERE to read related article)
A speedy annulment was granted to Lotlot de Leon. Her marriage to Ramon Christopher was nullified in May 2008—a year after the former filed her petition.
The reason: She got married when she was only 17 years old.
Under Philippine law, the legal age to get married is 18 and requires parental consent.
(CLICK HERE to read related article)
KRIS'S PETITION. The speed of the annulment process, Atty. Lapuz said, has a lot to do with the "nature of the case."