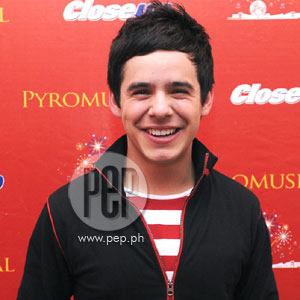 David Archuleta became the main attraction of the Pyromusical competition kick-off at the Mall of Asia Music Hall last February 11, Saturday. He performed two OPM songs, "Nandito Ako" and "Wherever You Are," and his original, "Something 'Bout Love."
Photo: Fuentes Manila
It was not the fireworks show but American Idol sensation David Archuleta who became the main attraction at the Pyropalooza kick-off last Saturday, February 11, at the Mall of Asia Music Hall.
Couples were entertained and fangirls swooned over David's performance of two OPM songs—his rendition of Ogie Alcasid's "Nandito Ako" and Southborder's "Wherever You Are"—plus his original song, "Something 'Bout Love."
Before the show, PEP.ph (Philippine Entertainment Portal) had a one-on-one interview with the American Idol Season 7 finalist and Nandito Ako star.
David is scheduled to leave the country after this week, shortly before the airing of his short drama series on TV5, Nandito Ako on February 20.
What does the 21-year-old singer plan to do in the meantime, espcially on Valentine's day?
"I think we have a photo shoot that we have to do," was David's short reply when asked what he will be doing on V-day.
NEW ALBUM. In a few months, David will be on hiatus from his singing career for two years. He will be going on a mission for their church, the Church of Jesus Christ of Latter-day Saints. (CLICK HERE to read related article.)
But in the meantime, he will be recording an album once he gets back to the States. What do his music fans expect from this album?
"The album I think it will be mostly... I don't know if it will be original music because I take a long time to write and work on original music.
"So I think what I'm gonna do is kind of like... we're doing the OPM album right now while we're here this week and it's just emotional songs that people know and connect to.
"And I think I'm gonna do something similar back in the States. Songs that people can relate with back at home."
David is not discounting the possibility of making original songs if his time would permit it.
He added, "But also, some other projects as well that are original music.
"But it's just a matter of how much we can get done while we're at home. It's just a matter of how well everything is set-up."