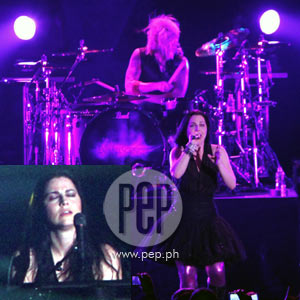 Amy Lee assumed vocal duties and performed on keyboards and the piano during the recent concert of Evanescence at the Smart-Araneta Coliseum.
Photo: Melo Balingit
Evanescence brought Manila "back to life" for a one-night only concert last Sunday, February 19, at Smart-Araneta Coliseum.
Patron seats were moved back, leaving the middle area open to serve as a dance floor/mosh pit for fans of the Grammy-winning gothic rock band.
At around 8:30 p.m., Lovi Poe entered the Smart Araneta Coliseum with rumored boyfriend Ronald Singson. Troy Montero and Aubrey Miles were also spotted at the Big Dome that night.
Serving as the front act was the Bush band led by frontman Gavin Rossdale.
At 9:45 p.m., the lights dimmed, marking the start of Evanescence's set.
Lead vocalist Amy Lee came out on stage wearing a black halter dress matched with violet leggings and black knee-high boots.
Fans sang along as the band opened with "What You Want" and "Going Under."
The husky-voiced Amy kept on moving from one side of the stage to the other as she sang the lyrics that go: "I'm going under (going under) / Drowning in you (drowning in you) / I'm falling forever (falling forever)."
After singing "Going Under," Amy told the jampacked crowd: "Hello Manila! Thank you so much. It's been forever but we finally made it here. We're huge fans of Bush and it's an honor to share the stage with them. They totally rocked tonight."
She then proceeded to the keyboards to serve as accompaniment for the song "The Other Side."
The female-fronted metal group also performed other songs such as "Weight of the World," "The Change," "My Last Breath," and "Made of Stone."
Halfway through their set, Amy introduced a special guest that night. "This time, I'd like to ask Dave Eggar to come up on stage. He played the cello on our album Evanescence."
The head banging continued as the band performed "Lost in Paradise," "My Heart is Broken," Lithium," "Erase This," "Sick," "Sober," and "Imaginary."
As soon as the familiar tune of "Bring Me To Life" started playing, audience members cheered as they sang along with Evanescence's hard rock classic song.