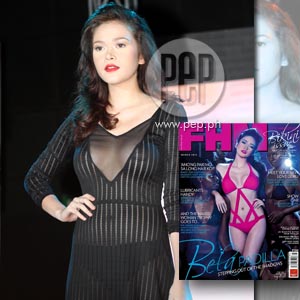 The racist allegations about the controversial cover photo of FHM Philippines continue. But its subject, Bela Padilla, reiterates on her interview with BBC World News, "We weren't thinking of harming anyone and we weren't thinking of racial discrimination."
Photo: Noel Orsal (Bela)/FHM Philippines (inset)
We took all the points into consideration and have decided to take the side of sensitivity.
When FHM hits the stands in March it will have a different cover. We deem this to be the most prudent move in the light of the confusion over the previous cover execution.
We apologize and thank those who have raised their points. We apologize to Bela Padilla for any distress this may have caused her.
In our pursuit to come up with edgier covers, we will strive to be more sensitive next time.