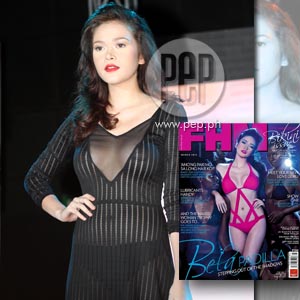 The racist allegations about the controversial cover photo of FHM Philippines continue. But its subject, Bela Padilla, reiterates on her interview with BBC World News, "We weren't thinking of harming anyone and we weren't thinking of racial discrimination."
Photo: Noel Orsal (Bela)/FHM Philippines (inset)
Bela: "Honestly, when I see a black person, I don't initially think of a certain race because we also have black Filipinos.
"We didn't really think of harming anyone when we did that shoot. So, again, I want to say sorry to anyone who was offended.
"FHM has recalled the issue and we're releasing a new cover. So, I hope everyone will just forget about this."
When asked if she regrets doing the cover photo for FHM, the young actress' initial reply was: "Uhm, I honestly don't know how to answer that. I was just called for the shoot.
"I didn't have any idea that it would be blown up this big.
"I had no intention of hurting anyone neither did FHM Philippines."
Then, she added, "I actually don't regret it. It was a beautiful photo.
"But if it did hurt anyone, then I am sorry."
NOT EVERYTHING IS NEGATIVE. Mishal ended the interview by reading some positive comments from BBC's Facebook followers.
Shahbaz Ahmad wrote, "It's creativity! Not racist! If a black model is photographed with 2 white models would anyone call it racism?"
While Claudia raised a different concern: "The pictures are fine but the wording is insensitive."
Folasade Ogedengbe, on the other hand, had this reminder to other people who have seen the controversial cover photo: "Yes I can see why they'd think so but seriously, lighten up guys. Pun not intended."
A "BLACK LADY" REACTS. Meanwhile, a PEP reader also expressed her opinion, through e-mail, about the supposed cover of FHM Philippines March 2012 issue.
Sinoia Nzima introduced herself as "half-Filipina, half-Zimbabwean."