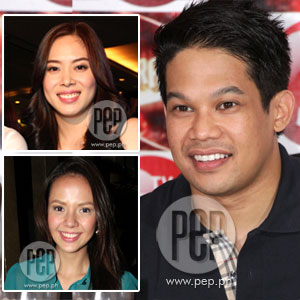 Did Mo Twister squeal the "untold story" behind Angelicopter's controversial termination from Magic 89.9? In an audio recording sent to PEP of a portion of the Good Times show's February 16 episode, Mo was caught saying that reason for Angelicopter's departure is because of the "internal fighting" going on between her and Grace Lee. He also cited "seniority and things like that" as part of the factors as to why the management decided to let Angelicopter go.
Photo: Noel Orsal
"Seniority," according to Mo Twister, is one of the reasons behind Angelika "Angelicopter" Schmeing-Cruz's termination from Magic 89.9.
On February 28, a listener of Good Times e-mailed to PEP (Philippine Entertainment Portal) his audio recordings of a portion of the radio show's February 16 episode.
The source requested for anonymity, and said that he recorded the segment because it talked about his friend Mojo, who used to be a co-host in the show.
The recording had the voices of Mo discussing with his new co-host, DJ Suzy, the reason behind the departure of his former co-hosts Angelicopter and Mojo Jojo.
Mo, who is now based in New York, still anchors the radio program.
In the recording, Mo asked Suzy what she knows about Mojo Jojo's story.
Suzy answered, "I know Mojo resigned, Mojo left the show.
"And from what I also know, he will be part of a different show in the near future here in the same station."
Mojo Jojo—whose real name is Joseph Javier—has been co-hosting the show with Mo since 2006.
But Mo Twister refuted Suzy's story, and went on to recall how they've always had problems in the past with Mojo's tardiness.
Mo also added that for the past few months, Mojo had bashed him with "ill" remarks on the latter's "personal website"—which he maintains with what Mo dubbed as Mojo's "high society boyfriend."
Still, according to Mo, his co-host even attacked some of their show's sponsors on the same website.
"Which is kind of odd considering it's from somebody on our team," he said.
Mo then continued his story with an anecdote about Angelicopter and Grace Lee: