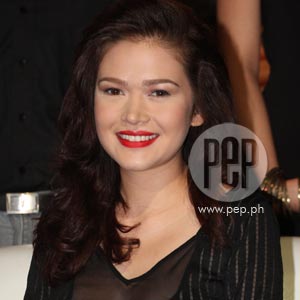 Bela Padilla says the "Stepping Out Of The Shadows" blurb on her FHM Philippines cover is appropriate for her change of image. She also tells PEP, "I guess I've been quite safe with my decisions before. I have the tendency of thinking too far ahead. Probably because I'm afraid of disappointing the people who matter to me. That's my biggest fear."
Photo: Noel Orsal
Aside from BBC News, the controversy about Bela Padilla's supposed cover photo on March 2012 issue of FHM Philippines was also picked up by other international newswires.
(CLICK HERE to read related article.)
London's The Telegraph carried the news on its online version dated last Monday, February 27.
Its lead reads: "FHM in the Philippines has apologised and pulled its March cover after complaints that the image of a fair-skinned actress surrounded by dark-skinned models was racist."
New York Daily News also posted a similar news item on its website last February 27.
Its headline reads: "FHM Philippines magazine pulls its March cover featuring beauty Bela Padilla after 'racism' outcry."
The cover photo showed the 20-year-old Kapuso actress in a pink sexy bikini surrounded by black female models with the caption below: "Bela Padilla: Stepping Out Of The Shadows."
Online debate started when FHM Philippines uploaded its supposed March 2012 cover photo on its Facebook fan page last weekend.
Due to the outpour of negative feedbacks from the readers, FHM Philippines decided to "re-examine the cover so that we could put into context its execution and assuage the concerns of our readers and non-readers as well who've weighed in on the issue."
Its official statement about the issue also included a public apology, which reads:
We took all the points into consideration and have decided to take the side of sensitivity.
When FHM hits the stands in March it will have a different cover. We deem this to be the most prudent move in the light of the confusion over the previous cover execution.
We apologize and thank those who have raised their points. We apologize to Bela Padilla for any distress this may have caused her.
In our pursuit to come up with edgier covers, we will strive to be more sensitive next time.