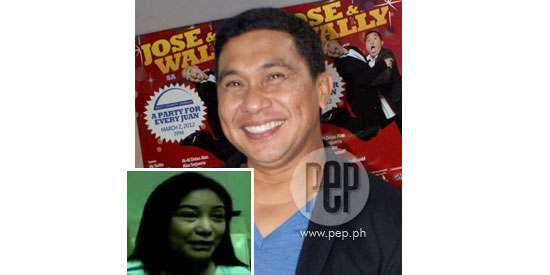 TV host-comedian Jose Manalo could possibly face charges for violating R.A. (Republic Act) 9262 or the Anti Violence Against Women and Children Act. Days after appearing on ABS-CBN's Sunday entertainment show The Buzz and confessing that her husband has abandoned her and seven children, Annalyn S. Manalo filed a complaint against the Eat Bulaga! comedian citing emotional and physical abuse.
Photo: Monching Jaramillo
Annalyn Manalo, wife of Eat Bulaga! TV host-comedian Ariel "Jose" Manalo, has formally filed a complaint against her husband for violating R.A. (Republic Act) 9262 or the Anti Violence Against Women and Children Act last February 27, 2012 at the Office of the Prosecutor in San Juan City.
In a news item reported by ABS-CBN online, Annalyn filed the complaint days before her March 4 interview with the network's Sunday showbiz program, The Buzz.
In her interview, she claimed that the comedian has abandoned her and their children.
(CLICK HERE to read related story.)
Annalyn provided ABS-CBN with a copy of her affidavit of complaint.
In it, she claimed that she and her children were emotionally and verbally abused by the comedian.
Jose has five children with Annalyn, and two kids from another marriage.
In the said interview, Annalyn mentioned that Jose left all seven with her since January 6 of this year.
The comedian, according to Annalyn, began hurling insults and verbal abuse at her in the second half of 2011 when the rumors of Jose's cheating with a member of a known dance group got around.
Despite her confronting her husband, Jose would deny the affair, said Annalyn in her affidavit.
Excerpts read:
"As time went by, the respondent's outbursts of foul language directed towards me were soon accompanied by extreme violence consisting of him destroying some of our house furniture and other items. There were even times that he spat on my face during his outbursts..."
Jose, claims Annalyn, would even exhibit such violence in front of the children.
"Unthinkably, respondent [Jose] would even call out all of his children, including his minor children, from their respective rooms just to say to them: 'Tingnan ninyo ang nanay ninyo, (expletive) ito, eh."