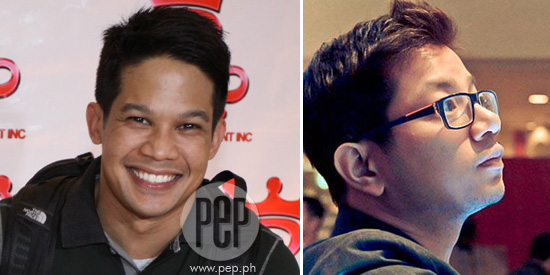 DJ Mojo Jojo (right) lashes back at his former Good Times co-host Mo Twister (left). He says the real reason behind his departure from the show was not because of his tardiness and "attitude problem," but because he could longer put up with Mo's "abusive and fraudulent" behavior.
Photo: Noel Orsal/Cosmo.ph
Remember the story posted in PEP.ph (Philippine Entertainment Portal) on February 29 about DJ Mo Twister telling the listeners of his morning radio show Good Times on Magic 89.9, the reason his former co-hosts, DJs Mojo Jojo and Angelicopter, left the show?
(CLICK HERE to read related article)
Well, it seems there's more to that account.
In that article, only a portion of Mo's on-air account was quoted. The rest of the transcript had been condensed to focus on the issue between Angelicopter and Grace Lee.
(CLICK HERE to read related story)
In fact, Mo had a lot more to say about Mojo Jojo's departure in that chatter.
Here is the full transcript of Mo's conversation with his co-host DJ Suzy:
Mo Twister: "So, Mojo and Chopper [Angelicopter] are no longer on the program. Let's see here, how and why?
"What do you know about it? And then I'll go ahead and I'll put my input in. What have you heard? Why are you here on our show? Why are you sitting there?"
Suzy: "I know Mojo resigned, Mojo left the show.
M: "Sure, that's what they call it."
S: "And from what I also know, he will be part of a different show in the near future here in the same station."
M: "Sure, all right. So, how do you resign? O, [you mean] he resigned from the program?"
S: "Yeah, he resigned from the program."
M: "Okay, I gotcha. Well, there you go. All I know is, um, here's how it works: We all know that we had a problem with him with the tardiness, right? The everyday tardiness for years and years and years and no real, true, good excuses given.