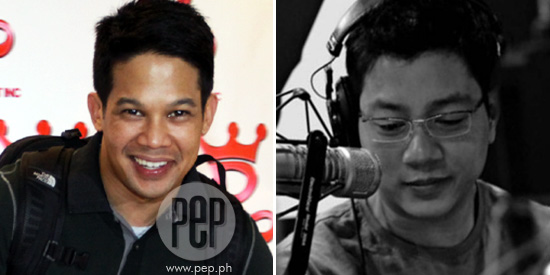 Mo Twister (left) admits he was hesitant to give PEP an interview about the issues hurled at him by his former radio partner DJ Mojo Jojo (right) and his boyfriend Amiel Cabanlig. Mo says, "The reason why I didn't want to do the interview sana today was kasi Mojo is sick and I didn't want to, like, on the day that he's sick, you come out with an article that will make him feel bad."
Photo: Noel Orsal/Facebook
Through a Skype conversation with PEP.ph (Philippine Entertainment Portal) on May 1, controversial DJ Mo Twister answered the allegations thrown against him by his former co-host, DJ Mojo Jojo a.k.a. Joseph Javier, and his boyfriend Amiel Cabanlig.
(CLICK HERE to read Part 1)
Mojo claimed that Mo had allegedly committed fraud on the radio program Good Times on Magic 89.9.
Mojo further claimed that he had been verbally and physically abused by Mo during their stint together on the show.
THE "MISSING" CONTEST PRIZES. The conversation began with Mo telling PEP what happened with the KSP Challenge and the P500,000 cash prize that was purportedly never received by the winners of the contest.
He recounted, "We were supposed to have a game where the prize was going to be P500,000 cash, where contestants [were] supposed to promote the show.
"So, it was a game by our sponsor, the ad agency that was putting it up and then, of course, our show.
"The problem with the game was that the voting software that was used was susceptible to attack and the...contestants were getting, like, the votes were being altered or something like that from an outside source.
"That's what we were thinking because the numbers weren't accurate to the voting process.
"Basta, there was a problem with the voting software from what I recall, I'm pretty sure that's how it went.
"So it was kind of impossible to award a rightfully chosen contestant because of that so what we decided was to reconstruct the software and eventually redo the contest at another date when we could get a cheat-proof voting system in place.
"But we never really kind of redid the game again, probably because we couldn't find a software that wasn't susceptible to attack or I don't know, it was kind of technical."
Contrary to Mojo Jojo's statement in the previous article, Mo said the contestants were informed about the situation and that the matter was even discussed on air several times.
With regards to the missing cash prize, Mo said, "The thing is, it's impossible to pocket any money there because these things go through a process where there's a paper trail."
He explained that in an on-air contest, there are four entities involved: the sponsor, the ad agency, the station management, and the show's hosts.