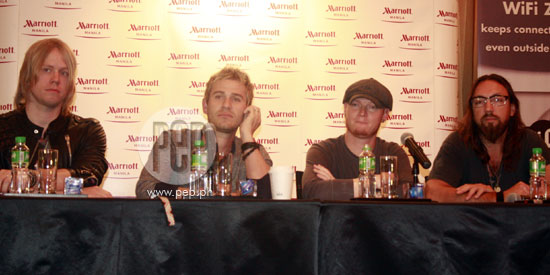 Lifehouse's Jason Wade on their first concert in Manila in July 2008: "We talk about this all the time and I'm not just saying this because you guys are in the room. That show, to us, since the inception of Lifehouse, was probably the most special show we've ever done."
Photo: Patrick Azucena
American rock band Lifehouse will perform in Manila tonight, May 26, at the Smart Araneta Coliseum.
The four-man group composed of Jason Wade on vocals, Rick Woolstenhulme Jr. on drums, Bryce Soderberg on bass, and Ben Carey on lead guitar, first performed here in Manila last July, 2008.
The band captured our hearts with their hit songs, "Hanging by A Moment," "Everything," and "You and Me."
Last Thursday, May 24, at their presscon at the Marriott Hotel, PEP.ph (Philippine Entertainment Portal) and other members of the press were curious to know why the band took so long to return to Manila.
"We talk about this all the time and I'm not just saying this because you guys are in the room. That show, to us, since the inception of Lifehouse, was probably the most special show we've ever done," Jason said about their first Manila concert.
"And I'm not saying that because you guys are here. Literally… For a lot of different reasons. That was the biggest show that we've ever [done] together.
"To see that many people come out and sing our music back to us… Four, five times, I kept looking back to Rick and we're just in awe.
"We couldn't believe the response that we were getting, so…the fact that they took us four years to get here, you know, kind of made us sad.
"We wanted to be [here] sooner, we were on our agents and managements to get back as soon as possible.
"So, that shows, kind of like, the pinnacle of our career and we're in this for twelve years. So, [I'm] really, really excited for Saturday," he said.
SONGWRITING. We asked about their process of making a song. Do they work on it together or individually?
"It's kind of evolving, to be honest. Uhm, When we started, a lot of the music started with just me on the guitar and I would finish the whole song and I would teach the other guys…we'll work it out on the studio," Jason replied.
"On this new project, we're starting a lot…a lot of the songs are coming out from late night sessions where we [were] just kind of creating songs on the spot."
"[Then] we'll kind of iron out the melody and the lyrics so...like I said, it's always evolving and it seems like there's a lot more collaboration with us just kind of being present in the moment," he explained.
Does it begin with the melody or the lyrics?