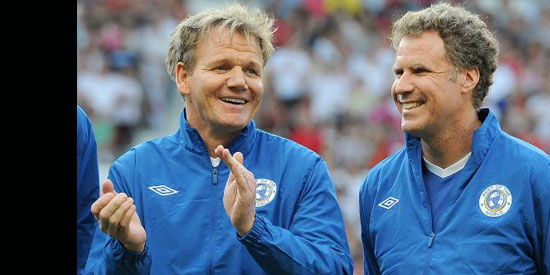 Hell's Kitchen host Gordon Ramsay (left) and comedian Will Ferrell (right) were injured during a charity soccer game in Manchester, England on Sunday. Ferrell was sidelined from the annual Soccer Aid match with an apparent leg injury, while Ramsay was removed from the field on a stretcher, administered oxygen, and taken to the hospital after a tackle by former pro player Teddy Sheringham.
Photo: Bang
Gordon Ramsay was rushed to hospital after falling ill during a charity soccer match.
The Hell's Kitchen star ended up being removed from the football pitch after a run in with former professional England player Teddy Sheringham.
Chef Ramsay had to be given an oxygen mask and carried away by paramedics on a stretcher after a serious collision at Manchester's Old Trafford stadium.
Gordon is slowly recovering from the back injury from the event to benefit UNICEF in the comfort of his own home.
A spokesperson said: ''Gordon was taken to hospital after injuring his back during the game. He was released after receiving treatment and although he's in pain today, there shouldn't be any long term damage.
''He would like to thank the medical team at the ground and the hospital for the excellent care he received.''
He wasn't the only celebrity to feel the effects of the Soccer Aid match in which Gerard Butler, Mike Myers, and Woody Harrelson participated.
Comedic actor Will Ferrell limped off near the end of the game, which raised over £4million, reportedly in a lot of pain.