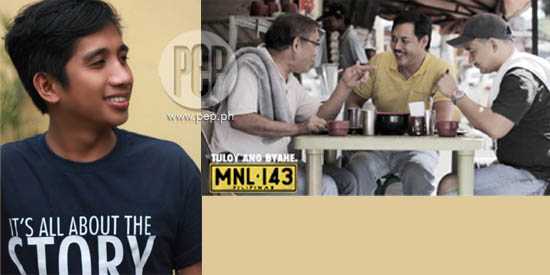 Young filmmaker Emerson Reyes' first full-length film MNL 143 will premiere on June 24 at the Filmhouse Independent Cinema in Scotland as part of the Philippine New Wave showcase at the 66th Edinburgh International Film Festival.
Photo: Courtesy of Emerson Reyes
After his controversial disqualification from the 8th Cinemalaya Philippine Independent Film Festival, young director Emerson Reyes announced on May 30 through his Facebook account that his film MNL 143 will have its world premiere at the 66th Edinburgh International Film Festival (EIFF).
Last Saturday, June 2, PEP (Philippine Entertainment Portal) was able to interview Emerson via e-mail, wherein he expressed his excitement for the film's upcoming release and answered some questions about his film's journey from Manila to Scotland.
SHOOTING MNL 143. Despite the ordeal he went through with Cinemalaya's organizing committee in February, Emerson was still determined to finish his first full-length film.
As the media frenzy on his tension with the festival organizers began to die down, so did he continue working on the film.
"We shot the film for six days," he said.
"Post-production was a breeze, given that we have a great post-production team.
"We finished the entire film in less than a month.
"I cannot be more thankful because our cast and crew have the same passion and dedication to make MNL 143 even better than I have envisioned it."
Originally, Emerson intended to work on the movie using the supposed Php 500,000 seed grant from Cinemalaya.
And as if the drama behind his disqualification was not enough, sourcing for funds to produce his film became his next big obstacle.
"We didn't have sufficient funds to even start a movie. We planned to shoot this film from the supposedly seed grant which is 500,000.
"When that didn't push through, we [had] to be creative to find ways how to fund the film.
"[Thankfully], close friends and colleagues from the industry gave support so we can start production. We also had fundraising projects with ArtisteConnect.
"I am also grateful for the full support from Voyage Studios, a studio that produced internationally acclaimed films, and also Liquidpost who gave us great support for our sound needs.
"The production staff from Barong Tagalog and Dogtown Studios also worked very hard out of love for their craft," Emerson said.