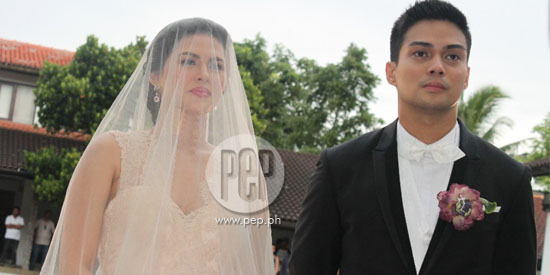 Lara Quigaman and Marco Alcaraz tied the knot today, July 8, at Hacienda Isabella in Indang, Cavite. The couple surprised friends and family with their announcement that they are expecting their firstborn in November this year.
Photo: Arniel Serato
"And most important of all, thank you for bringing me closer to the Lord... I'm sorry Lara... for the pains you had to go through with me. I am not perfect but I will always try to work hard to be the best husband to you and father to our children.
"I love you, Lara and I promise to love you unconditionally, without reservation, comfort you in times of distress, encourage and support you to achieve all your goals and dreams—I love you Lara—that I want to laugh with you, learn with you and grow with you in mind and spirit all my life...
"And lastly, you may be Miss International to everyone, but for me Jiamps—you will always be my precious one. And I commit to taking care of you with all my life, my precious one—plus... our forthcoming son—and you both will be my precious two.
"I love you... I really love you! Thank you!"