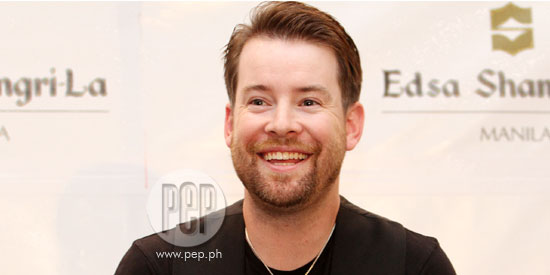 "How good is this person going to get?" Pop rock artist David Cook thinks highly of American Idol Season 11 first runner-up, Jessica Sanchez. David Cook returns to Manila where he will hold a concert for the second time.
Photo: Noel Orsal
David Cook is back in the Philippines for a two-night concert on July 14 and 15.
The American Idol Season 7 champion, who became popular among the Filipinos because of his remake of Mariah Carey's "Always Be My Baby," returns to Manila where he will hold a concert on Saturday night, July 14, at the SMART Araneta Coliseum and on Sunday night, July 15, at the Waterfront Hotel in Cebu.
Three years after his first show in the Philippines with American Idol Season 7 runner-up David Archuleta, Cook is glad to serenade his Filipino fans once more.
In a press conference at the EDSA Shangri-La Hotel in Mandaluyong City this afternoon, July 13, the 30-year-old pop-rock artist, said he finds the country beautiful.
Cook flew in this morning, on board PR 103—the same plane the People's Boxing Champion Manny Pacquiao was on.
"I still talk about the show and my experience of coming out here. This country is incredible, beautiful," Cook said.
"I mean, having the chance to fly in this morning, the sun was coming out, it's beautiful!"
Cook, who has extensively toured the United States, and parts of Europe, said the Filipinos are "more inviting and friendly."
After coming out as the winner of the popular reality singing show, Cook released in 2008 his self-titled debut album. His singles "Light On" and "Come Back To Me" hit the Top 20 of the Billboard hit chart; the album also reached platinum status.
Cook is in the country to promote and sing songs from his second album, This Loud Morning.
ON JESSICA SANCHEZ. During the press conference proper, Cook was asked what he thought of the last season of American Idol and Filipino-Mexican first runner-up, Jessica Sanchez.
"I get asked about Jessica a lot. I think she should come out here," he initially joked.
He thought the last season of Idol was interesting.
He said, "It's one of the first seasons I've ever watched where I couldn't really get a pulse on what the American public was thinking.
"It seemed that every week, whoever we thought was going home, didn't go home, and whoever we felt was a sure thing would go home."