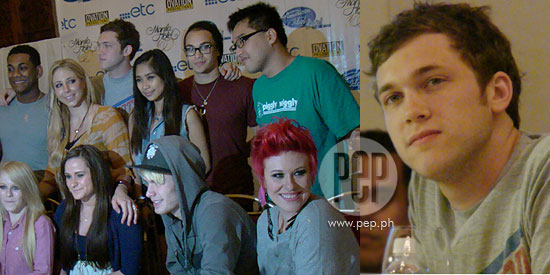 "It's gonna be interesting. It's a whole new crowd, you know, besides Randy. There's gonna be a lot of different opinion going around," says American Idol Season 11 winner Phillip Phillips about the new judges of the show—Mariah Carey, Nicki Minaj, and Keith Urban.
Phillip (standing, third from left) is pictured on the left photo with other Idol hopefuls namely (standing) Joshua Ledet, Elise Testone, Jessica Sanchez, DeAndre Brackensick, Hee Jun Han (seated from right) Erika Van Pelt, Colton Dixon, Skylar Laine, and Hollie Cavanagh.
Photo: Nerisa Almo
American Idol will have three new judges on the panel next season.
Randy Jackson will be joined by pop diva Mariah Carey, country singer Keith Urban, and rapper Nicki Minaj in Season 12 of American Idol.
The three came on board after the departure of Jennifer Lopez and Steven Tyler, who both joined the panel for two seasons.
Like most of the show's fans, the finalists from Season 11 are also excited to see how these music superstars are going to judge the Season 12 hopefuls.
The Top 10 of American Idol Season 11 are currently in the Philippines for their one-night concert to be held on Friday, September 21, at the Smart-Araneta Coliseum.
During their press conference yesterday, September 18, at the Manila Hotel, the Idols were asked what they think about the new judges.
Phillip Phillips, this year's winner, said, "I'm excited to see how the judges panel is gonna be this year. It's gonna be interesting.
"It's a whole new crowd, you know, besides Randy. There's gonna be a lot of different opinion going around."
When asked who among the new judges he will be most scared of, Phillip replied, "I would still be scared to every single one of them like I was this year.
"I think it is still gonna be the same thing."
Country singer and fifth-placer Skylar Laine, on the other hand, said, "I know that I'm excited for Keith Urban to be a judge because finally there's a country judge in the panel.
"But I think it's a great panel of judges.
"You got Nicki Minaj. It would be great for RnB to bring in a lot of young people to the show.
"There's Mariah, who is a multi-platinum artist and has been around for years.
"She knows exactly what she's talking about.