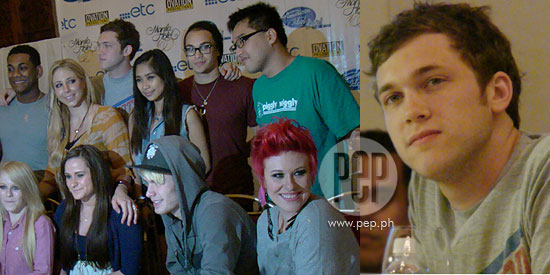 "It's gonna be interesting. It's a whole new crowd, you know, besides Randy. There's gonna be a lot of different opinion going around," says American Idol Season 11 winner Phillip Phillips about the new judges of the show—Mariah Carey, Nicki Minaj, and Keith Urban.
Phillip (standing, third from left) is pictured on the left photo with other Idol hopefuls namely (standing) Joshua Ledet, Elise Testone, Jessica Sanchez, DeAndre Brackensick, Hee Jun Han (seated from right) Erika Van Pelt, Colton Dixon, Skylar Laine, and Hollie Cavanagh.
Photo: Nerisa Almo
"So, I'm really excited about what's gonna happen this year."
American Idol Season 12 is set to begin on January 2013.
EATING AND SHOPPING. Before their one-night concert, the Top 10 of Season 11 will spend their two days doing interviews with the local media and meeting their fans through a couple of mall shows.
If they do get a spare time, the Idolssaid that they would spend it by shopping and trying some Filipino food.
Skylar, who is from Mississippi, said, "I'm a big food fan. I miss the southern food so it's great to come here and experience some new food."
Runner-up Jessica Sanchez, who is half-Filipino, is also interested to try authentic Pinoy dishes.
She said, "I eat Filipino food in America.
"It's actually amazing to be here in the Philippines and have home-cooked foods. I'm excited for that."
Meanwhile, British-American Hollie Cavanagh was raving about shopping during the press conference.
She said, "I heard there's a really good shopping so I'm really excited to go shopping!
"If we really have some time, I know Jessica and I will get on that really quick.
"I also talked to one of the previous contestants and said this is one of the really amazing things.
"I think we're really excited for it."
Korean-American Hee Jun Han, on the other hand, joked about going to the casinos, which, according to him, is one of the things he heard about the Philippines.
Last season's resident clown said, "My fiancée, Jessica, told me there are a lot of pretty girls. But so far I couldn't see anyone.
"I'm kidding... I see beautiful girls here, I'll give you my number later.