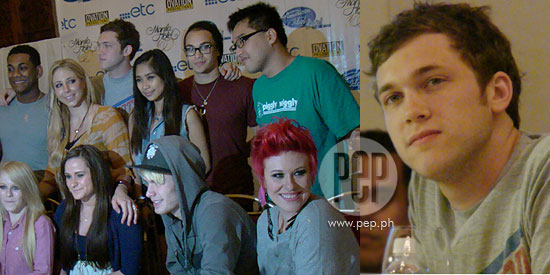 "It's gonna be interesting. It's a whole new crowd, you know, besides Randy. There's gonna be a lot of different opinion going around," says American Idol Season 11 winner Phillip Phillips about the new judges of the show—Mariah Carey, Nicki Minaj, and Keith Urban.
Phillip (standing, third from left) is pictured on the left photo with other Idol hopefuls namely (standing) Joshua Ledet, Elise Testone, Jessica Sanchez, DeAndre Brackensick, Hee Jun Han (seated from right) Erika Van Pelt, Colton Dixon, Skylar Laine, and Hollie Cavanagh.
Photo: Nerisa Almo
"[I heard about] a lot of great things, great food, lots of casino."
FILIPINO AUDIENCE. Aside from shopping and food, the Idol alumni are most excited about the reception that they will get from the Filipino audience at their concert.
Third-placer Joshua Ledet said, "I'm extremely excited to be here.
"Coming from the contestants from the last season... [they] said that you guys are very appreciative and it's a lot of fun here.
"I'm really excited, thanks for having us."
Erika Van Pelt, who finished tenth, said the same thing when asked what she heard about the Philippines.
"We heard that it's beautiful and the rest of the guys [from last season] said that there's a warm reception here, everyone has been really nice."
Since their concert on Friday will be their last performance for the American Idol Live! Tour 2012, seventh-placer Colton Dixon said, "I think it's the chance for us to spend time with each other, this last week, as a family. It's foreign to a lot of us who are excited to be here."
Before their concert on Friday, the American Idol Season 11 Top 10 finalists will be at the Eastwood City and Glorietta Activity Center today, September 19; and at the Alabang Town Center and Venice Piazza McKinley Hill tomorrow, September 20.