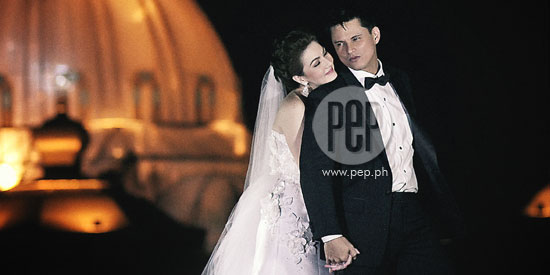 Zoren Legaspi revealed to Carmina Villarroel on their wedding day: "Hindi mo rin kasi alam, honey, bago operahan ang daddy mo, nag-promise ako sa kanya. Sabi ko, 'Daddy Reggie, kailangan niyo pong magpakatatag, dahil kailangan niyong magpagaling dahil nga ikakasal tayo."
Photo: Nice Print Photography
Carmina Villarroel and Zoren Legaspi have been together for twelve years.
They also have their lovely 10-year-old twins, Maria Cassandra, known as Cassy, and Maverick Peter, known as Mavi.
To top it all, they are probably the most bankable family when it comes to endorsing products.
Indeed, it seems like Carmina and Zoren have nothing more to ask for. That is, except to tie the knot, which finally happened yesterday.
EVERYONE IN ON THE ACT. The family arrived around 2:30 p.m. at the Fernbrook Gardens, Portofino in New Alabang, Muntinlupa.
Carmina was thinking all the while that they would be shooting a commercial for one of their various advertisements.
The family proceeded to the Colonial Hall in Fernbrook's lower ground area upon their arrival.
The kids then commenced with the whole act of rehearsing a dance routine with the G-Force, while Zoren went to the reception area to have an interview.
Meanwhile, Carmina was having her makeup done by Robbie Piñera, still totally unaware that she was being transformed into a bride.
Moments later, the family had some food to eat, and Carmina couldn't help but notice, "Wow, may mga waiters!" That was rather unusual for a simple ad shoot.
But it wasn't enough to cause suspicion.
When Carmina went back to her makeup, and the twins went back to their dance rehearsal, the act escalated to another level.
Mavi was quite the actor, pretending that he couldn't keep up with the dance steps and was on the verge of tears from trying too hard.
Meanwhile, Zoren's feigned temper was building up, and he was heard telling one of the staff to just exclude the twins from the dance number.
A mock argument broke out between Zoren and a member of the staff, which heated up until both guys were raising their voices.