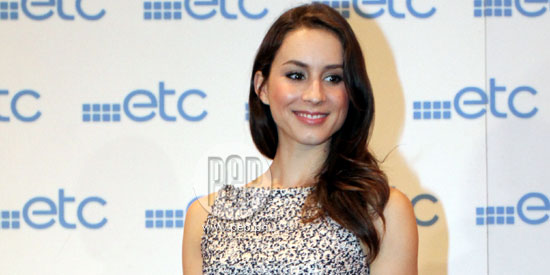 Troian Bellisario on whether she gets jealous of boyfriend Patrick J. Adams's love interests: "I think it's definitely not the most pleasurable thing that I get to do when I watch his romantic scenes. But the good thing is that I actually, I do love Meghan Markle, she's such a sweetheart. So I kind of like, you know, if you're gonna play in love with somebody, what better person can you ask for than her."
Photo: Noel Orsal
Being the eldest in the group, Troian admits that her co-stars go to her for advice.
She says, "I definitely... yeah, I'm definitely kinda like the momma hen of the group, which is very Spencer of me.
"But, you know, because I'm the eldest of the girls, I've had a little bit of, like, they've all had amazing, different experiences, but I do kind of like making sure that everybody is okay.
"So I don't know how to just kind of like take care of myself and ignore everybody else.
"So I am kind of like the person that if you come to me for advice, I'll definitely sit down and give you everything that I can."
PATRICK ADAMS. Troian's boyfriend, Patrick J. Adams, plays Mike Ross in another popular US TV series—Suits.
Being both in the limelight, how do they handle their relationship?
Troian answers, "Well, I think we're both very fortunate in that we both fell in love before we got our shows.
"So the coolest thing about being in a relationship with him is that he's got to see for me what roller-coaster it's like.
"It's not like, I think what happens to a lot of people is they kind of get along to a certain point in their career and then they date somebody else at a certain point in their career and your egos clash.
"And it's like, 'who's more famous?' and stuff like that.
"So for both of us, it's just kind of been such a surprise to land on such amazing shows, you know.
"I'm such a fan of his show too that we've both kind of been able to be there for each other and respect it in a way that it's not competitive or, you know, strange.
"I think the only odd thing for us is that we didn't... because we've never experienced it before, we didn't know how much of it to protect, you know.
"'Cause it's like, I'm on Twitter, he's on Twitter, we're both on Instagram, we're gonna be taking pictures of each other and so people have this idea about our relationship."
As their relationship started off-screen and developed even before they both became part of highly-successful TV shows, Troian admits, they find it difficult to keep certain things private.