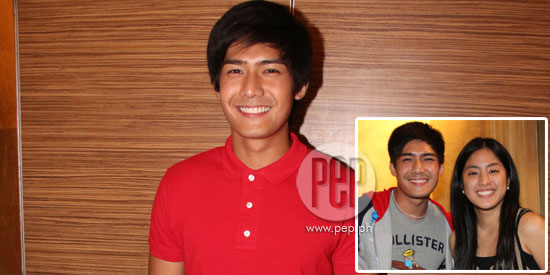 On the qualities he admires most about Gretchen, Robi Domingo says, "She's very... I guess the word that strikes me is very 'independent.' She knows how to handle things by herself. She's really caring, she's all for the team. I mean, what's one thing I won't like about her? Nothing."
Photo: Mark Atienza; Noel Orsal
Though they are not officially together yet, Robi Domingo did not hesitate to talk about his relationship with Ateneo Lady Eagles volleyball player Gretchen Ho.
PEP.ph (Philippine Entertainment Portal) had a chat with Robi yesterday, March 15, at Peking Garden restaurant in TriNoMa.
He was launched as one of the brand ambassadors of Brazilian timepiece brand YOT (Your Own Time), along with Daniel Padilla, Julia Montes, Kathryn Bernardo, and Rayver Cruz.
Over the years, UAAP women's volleyball has grown very popular that some of its players have now achieved celebrity status.
One of these "volleybelles," as they are called, is Gretchen Ho, who played her last year in the league as she is now graduating from college.
Gretchen has more than 220,000 likes on her Facebook page and almost 88,000 followers on Twitter.
On how proud he is that Gretchen has made a name for herself, Robi says, "With or without that popularity, I am very much proud of that girl."
Robi, who doesn't seem surprised of Gretchen's rise to fame, says, "Well since before naman, she's been in the super up there, you know, in the popular sphere.
"But when I got to know her kasi, I didn't mind that. You know, I got to know her as a friend.
"We met actually when we were third year students pa lang."
HOW THEY MET. Robi came from an all-boys Ateneo De Manila High School while Gretchen came from all-girls Immaculate Conception Academy (ICA).
These exclusive schools hold soirees to encourage interaction between the students.
On his first encounter with Gretchen, Robi related, "We had a soiree and it turned out really bad.
"Cause Ateneo and then the ICA soiree. So we had that ICA soiree. And then Xavier boys came in."
ICA and neighboring Xavier school are known to have close ties as they are both part of the EDSA-Ortigas Consortium of Schools.
Robi continues, "So our class became…'threatened' is not the word. We felt disrespected.