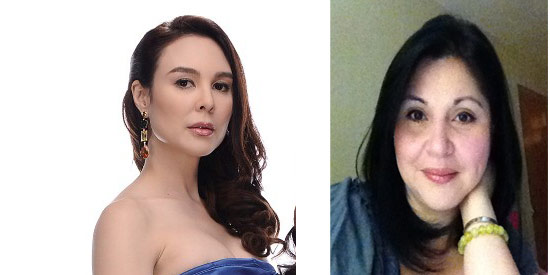 Gretchen Barretto (left) and Tania Montenegro (right). Tania: "I'm sorry to disappoint you guys because true friendship needs no amount of money."
Photo: File
Tania Montenegro, in a text message to PEP today, April 28, says that her decision to defend Gretchen Barretto is motivated by "purely friendship."
The 42-year-old Tania, the older sister of Nadia Montenegro, was in the same batch that Gretchen, 43, was in at the Colegio de San Agustin throughout their grade-school years.
Tanya would go on to enter high school, but Gretchen would enter the world of endorsements in 1982, at the age of 12, and the world of showbiz in 1984, at the age of 14.
They would cross paths quickly enough again, when Gretchen signed up with Lily Monteverde's Regal Films and Tania signed up with Cheng Muhlach's Morning Star.
While they made no movies together, Tania says in the text message: "We were always together. I would visit their set while they were shooting 14 Going Steady and Gretch would visit our set while Aga [Muhlach, son of Cheng] and I shot Campus Beat."
Tania stayed in showbiz for only three years. By 1987, she left to have a private life. "I became pregnant to my daughter who is now 25 years old." But, Tania says, she and Gretchen remained tight friends.
(CLICK HERE to read related article)
The article, posted in PEP yesterday, April 27, has reached unique pageviews of at least 218,000, referring to the number of individual Internet Protocol (IP) addresses; and more than 269 comments as of 2:25 p.m., today, April 28.
The PEPsters—the name by which PEP readers and commenters are called—have been divided.
Those who spoke positively about Tania included, posted as is:
joyce000: thank you so much miss tanya montenegro hindi dahil sa pagkampi mo kay Gretchen…ayun ay dahil sinabi mo ang dapat malaman ng mga tao. ANG KATOTOHANAN. salamat Tanya.
Rubytuesdaypm: Gretchen has been demonized by his own mom and sister, bashed by haters and I am not even a fan but nadia's [tanya's] story sounds more credible.
Those who spoke negatively about Tania included, posted as is:
opinion_koh: SANA TANYA WAG KANA SUMAWSAW NAKAKA AGGRAVATE KA SA SITUATION....SANA NAG DECLINE KANALANG SA INTERVIEW YOUR ADDING FUEL TO THE FIRE..TSK TSK TSK