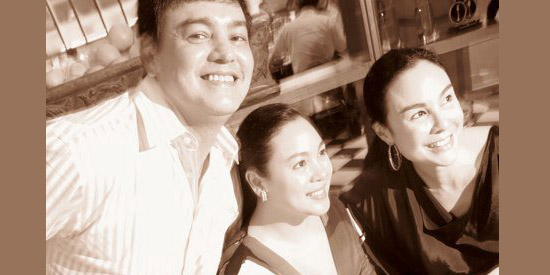 Jay-Jay Barretto (left), seen here with his sisters Claudine (center) and Gretchen (right): "Prinsipyo na ito...I just have to refute all the lies. All the lies. I cannot stand it anymore."
Photo: Facebook
For speaking up in the unfolding real-life drama of his family, Joaquin "Jay-Jay" Barretto now finds his life disrupted.
He is no longer welcome at the condominium where his parents stay in Bonifacio Global City. This is where Jay-Jay, who has no steady partner, practically lives when he is not in Tarlac, where the youngest of his four children is based.
The 51-year-old son of Estrella and Miguel Barretto admits that the disruption to his life is not a small one.
"I can't even see Dad, and he's sick. I've always been close to Mom. My life just changed. Nag-iba, nagulo. Mom daw said, 'Tignan natin kung may mukha pa siyang ipakita rito!'"
The condominium is owned by his sister Claudine—the youngest Barretto child, a famous star whose once-dazzling career is now in limbo, and the sister he spoke up against.
"I don't really come out, I don't say anything," Jay-Jay, the third in a brood of seven, says. "Even in the Mon Tulfo thing, I didn't say a thing. But that one showed you what kind of person Claudine is, what she's capable of.
"Wala ako sinabi. Even in Claudine's quarrels before, wala. Ngayon lang ako nagsalita. Banatan na nila ako, I want to tell the truth.
"This is not my doing. Mom should never have put out that letter. Sobra na itong ginawa kay Gretchen. Awang-awa ako kay Gretchen. She didn't start any of this, e, di ba? Siya ang in-attack ng mommy ko. Why would I not come to her rescue? You know what I mean?
"Prinsipyo na ito. What I'm saying is just the truth. Now if the truth will hurt them and lumabas na sa publiko, that's not my doing. I just have to refute all the lies. All the lies. I cannot stand it anymore.
"Si Gretchen and Marjorie walang ginagawa. Si Claudine umaatake. Si Mommy kinakampihan pa siya! Tama ba iyon?
"Si Claudine sinasabi wala akong utang na loob. Pero hanggang saan ang utang na loob? Kelan siya matatapos sumingil?"
To go by posts on social networking sites, Claudine's irate fans are not done collecting. They've taken to calling Jay-Jay an "addict" on cyberspace. On PEP (Philippine Entertainment Portal) alone, they taunt him with cuss words like "lapastangan," "sira ulo," and "adik-adik."
When we ask for his reaction to the taunts, Jay-Jay is silent for a couple of seconds. He is in Tarlac when he takes the call of PEP editor-in-chief Jo-Ann Maglipon, who will call him twice on April 26, once at 10 a.m. and another at 7 p.m.
This is our second interview with Jay-Jay, and it comes soon after the letter of his younger sister Gia Barretto-Reyes is published in a newspaper. Our first interview was on April 24 (posted April 25), and it came right after the open letter of his mom Inday Barretto also hit the press.
When he finally speaks, he faces the name-calling head-on: "Addict daw ako? I'm an open book. Everybody knows my story. I've made some bad judgment in the past. But today, I don't even drink. No more drinking.