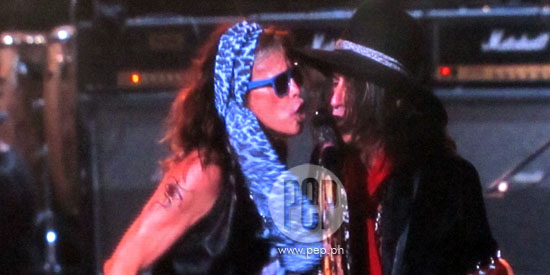 Steven Tyler (left) and Joe Perry of the legendary American hard-rock band Aerosmith performed last night, May 8, at the SM Mall of Asia Arena.
Photo: Rommel R. Llanes
After Pinoy rock band Rivermaya's engaging set and almost an hour of setting up the main attraction's instruments and other stage equipments, Steven Tyler, Joe Perry, Brad Whitford, Joey Kramer, and David Hull (pinch-hitting for regular and original bassist Tom Hamilton)—collectively known as the Aerosmith—took the stage of the SM Mall of Asia Arena last night, May 8, to start the Philippine leg of their Global Warming Live Tour.
The already warmed up concertgoers—a mixture of locals, American expats, and other nationalities—were screaming and cheering in unison when lead singer Steven and lead guitarist Joe appeared onstage with their bandmates and started playing their 1989 hit "Love In An Elevator."
Tyler—wearing a hat with purple feathers, a blue bandana, long blue-sequened coat, a shirt printed with Jim Morisson's face, and white pants—sang, danced and strutted as the band's P2,600-P20,000-paying audience cheered and held their photo/video capturing gadgets to record every bit of the ex-American Idol judge's performance.
The event, after all, was historic not only for the fans but also for Aerosmith.
A few days ago, Indonesia would have been the first Southeast Asian destination of the legendary band cited as "America's Greatest Rock and Roll Band."
But one report says the local promoters from that country decided to cancel the band's concert there because of "safety concerns."
It was not clear though if the decision was connected with an alleged bomb plot targeting the Myanmar's embassy in Jakarta.
Philippines then became Aerosmith's first-ever Southeast Asia country to perform in.
After singing their first song, Steven then greeted the Arena crowd with "Manila, mabuhay!"
The crowd altogether answered back with a loud cheer.
Perry, then broke into the opening riff of their 1977 hit song "Draw The Line" which kept the cheers and screams at steady level.
For a 65-year-old, Tyler can still deliver the performance expected from him by his followers.
It was as if age and the injuries he accumulated through years of stage acrobatics and reckless motorcycle accidents had no effects on his ability to electrify and entertain his audience.
He swayed, swaggered, danced, ran, and twirled while holding his trademark scarfed microphone stand. He interacted with the audience by shaking hands with them, having a photo op with them, and even kissing one female concert attendee.
But what his fans really came for was to hear him belt out the band's greatest hits with his legendary high screams and howls.