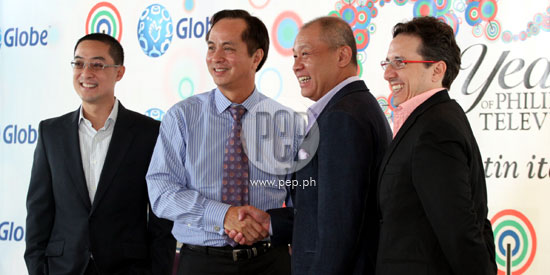 (L-R) ABS-CBN Convergence President and Managing Director Carlo Katigbak; Chairman Gabby Lopez shakes hands with Globe Telecoms President Ernest Cu and Senior Adviser for Consumer Business Peter Bithos.
Photo: Noel Orsal
ABS-CBN has decided to venture into the telecommunication industry through a network-sharing agreement with Globe Telecom.
This announcement was made yesterday, May 28, by ABS-CBN Convergence president and managing director Carlo Katigbak in a press conference.
Katigbak said in his speech, "In recent times we have come to realize that the mobile internet is going to become one of the most important platforms for delivering our content to our audiences.
"We believe that in the same way television revolutionized the mass market's ability to receive information and entertainment; the wireless internet will be the next most important medium for our audience.
"This is also another milestone in our transition from predominantly being a broadcast company to becoming a complete media enterprise, reaching our audiences not just on television but on any medium that is important and relevant to them."
For their part, Globe Telecom President Ernest Cu declared that they have upgraded their network capacity to make the partnership possible.
Katigbak illustrates the viability of producing video content for viewing through wireless internet.
He relays that as of today, nearly half of the users of iwantv.com.ph, ABS-CBN's video-on-demand and live streaming platform, are already accessing the site through mobile devices.
By purchasing an ABS-CBN Mobile sim, subscribers will have access to exclusive content which will not be available through television.
He expounds, "So that could range from entertainment to news, to celebrity interactions and so forth.
"But what we're really thinking about is creating content that is unique and exclusive to our mobile subscribers."
Through this venture, ABS-CBN is looking to be a third player in the telecom industry which is dominated by Globe and Smart.
While the pioneering set-up is unfamiliar to most Filipinos, some foreign companies have proven the workability of the arrangement.
A good example is wireless communications brand Virgin Mobile which operates in Australia, the United States, the United Kingdom, and several other countries.
Though the possibility that ABS-CBN Mobile will eat up Globe's market share looms, Ernest Cu believes that the partnership will ultimately prove to be beneficial.