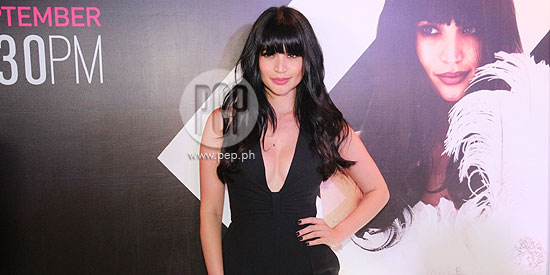 From Anne Curtis to JR Isaac: "Just want to apologize for my behavior! I'm so so so sorry. I'm so ashamed..." From JR to Anne: "Apology accepted."
Photo: Mark Atienza
The Philippine Entertainment Portal received a feed from a reliable source today, December 1, about an incident reportedly involving top celebrity endorser and star Anne Curtis, on the one hand, and other celebrities, including John Lloyd Cruz, on the other.
The feed said that Anne, in the early morning hours of Saturday, November 23, had harangued some guests at a luxury club, slapped three of them, and announced that she could afford to buy everyone there, even including the club itself.
The PEP source said that he had attended a meeting and "everyone there was talking about it." The source also mentioned that the story had apparently been circulating for several days.
PEP lead correspondent Nerisa Almo, identifying herself, turned to Twitter to ask if Anne could follow back Nerisa's account, saying she wanted to send a private message to the star. (At press time, there was no word from Anne.)
Nerisa soon followed with a call to Anne's mother company, Viva Entertainment, where Nerisa spoke to Ferlin Buenviaje, who said she would have to refer us to another Viva officer.
Meantime, Nerisa called the Viva Artists Agency, which handles Anne's career, and got hold of Anne's handler, Therese Ramos. Therese, saying she knew nothing about any incident, said she would call Viva executive Veronique del Rosario-Corpus. (At press time, there was no word from Viva.)
Nerisa also used Twitter to connect to actor, host, and club owner JM Rodriguez, one of the celebrities reported to have been on the receiving end of Anne's harangue. (At press time, there was no word from JM.)
Nerisa had yet to find a line to John Lloyd Cruz.
Finally, PEP's editor-in-chief Jo-Ann Maglipon got hold of JR Isaac, another celebrity said to be directly involved in the incident.
Although clearly surprised to get a call from PEP, JR—saying, "I'm not hiding anything"—answered PEP's questions.
THE INCIDENT. JR Isaac is in his forties, and is currently the editor and publisher of Circuit Magazine, a free city-life guide providing information on parties, places, and events.
He is also engaged in boutique advertising and remains a creative consultant for events, which makes him a rather connected fellow, something that he admits he is.
He says that last November 22, "a typical Friday night," he and some friends were at a favorite hangout, the Privé Luxury Club, located in The Fort Strip at the Bonifacio Global City complex, Taguig City.
These friends included Leah de Guzman, Czarina Sarte, Nix Alañon, and showbiz personalities Phoemela Baranda, Jake Cuenca, and John Lloyd Cruz, aka JL. Also at their table was Privé co-owner JM Rodriguez.