MULTIMEDIA
7th Spring Film Festival from February 1-10 at Shangri-La Plaza Mall Cineplex
posted on Thursday, January 24, 2013 - 06:38pm
STATS:
19077 Views | 0 Comments
Cinephiles and patrons of Chinese culture eagerly await the 2013 Spring Film Festival, slated to run from February 1-10 at the Shangri-La Mall Cineplex.
Now on its seventh year, the Chinese film festival continues its tradition of celebrating China's rich historic and cultural legacy through cinema.
This year's roster of films include: Piano in a Factory, 2Become1, Jasmine Women, Golden Times, Space Dream, and Storm Warriors.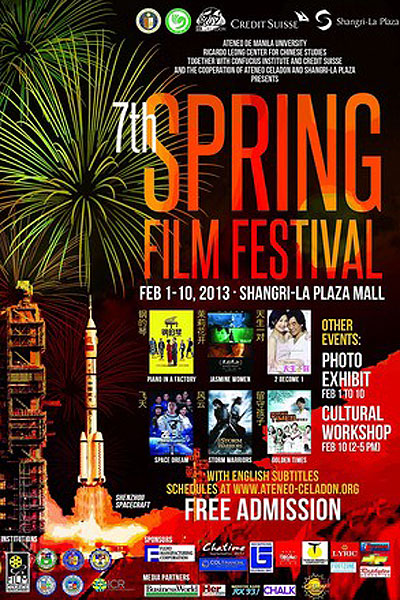 Aside from featuring six modern Chinese films, the film festival will also be highlighted by the launching of Chinese Painting in the Philippines, a 180-page coffee-table book which presents the important works of past and present Chinese-Filipino artists.
Another major highlight is the 2013 Spring Festival Chinese Painting Exhibit which will feature seasoned and developing artists from the Chinese painting class of the Confucius Institute and the International Studies for Chinese Arts.
Visitors may also check out On the Wings of Culture Chinese, a photo exhibit aimed at educating the public about the new wave of cultural reforms in modern-day China.
The festival will also include a free cultural workshop on February 10 from 12 to 5pm. It will offer a language class, a Chinese painting class, and a Chinese calligraphy class. These activities will be held at the Grand Atrium of the Shangri-La Plaza Mall where the 2013 Spring Film Festival is staged annually.
Photography: file photo
can't get enough of celeb news? like us!
Most Popular
Most Shared
Most Talked About