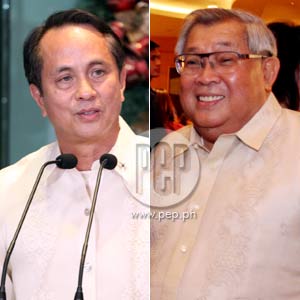 Network bigwigs Eugenio Lopez III of ABS-CBN and Gilberto Duavit Jr. and Felipe Gozon of GMA-7 landed anew in this year's list of the "Philippines' 40 Richest," according to Forbes Magazine.
The list was published by the magazine on its official website on June 22. Its counting of assests is in U.S. dollars.
It shows GMA Network COO Duavit Jr. occupying the 26th spot, with a net worth of $190 million.
Network CEO Gozon clinches 30th place, with an estimated $163 million in assets.
ABS-CBN Chairman and CEO Eugenio Lopez III ranks No. 39 in the list, and is reported to be worth $90 million.
Oscar Lopez, the Chairman Emeritus of the Lopez Group of Companies (formerly Benpres Holding Corporation), is at No. 23, with an estimated wealth of $280 million.
Businessman and GMA Network's former president Menardo Jimenez has a $185 million net worth, according to Forbes Magazine, and corners the 27th spot.
Interestingly, all of these businesmen suffered a dip in their respective rankings when compared to last year's Forbes list.
In 2010, Oscar Lopez was ranked No. 16, while Gilberto Duavit, Jr. placed 25th overall in the list.
Menardo Lopez was 26th, Felipe Gozon 27th, and Eugenio Lopez III 36th, according to Forbes Magazine's report.
MOVING UP. While there are some who experienced a decline in their net worth, a handful of personalities saw their fortunes improve from the previous year's numbers.
"Overall, the number of billionaires has more than doubled this year to 11—a record haul," the report mentioned.
It also added that "thirty-two tycoons are richer," despite the low 4.9 percent growth of the economy early this year, due to sluggish trading and the government's low infrastructure spending.
Significant earners who made an impact in this year's list include:
International Container Terminal Services, Inc. (ICTSI) Chairman and CEO Enrique Razon Jr;