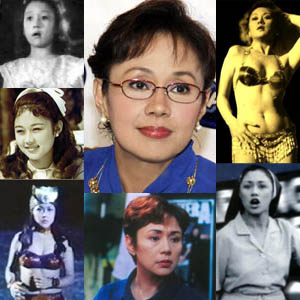 Vilma Santos is unique. She holds the distinction of being the only actress in Philippine showbiz to have gone through four-and-a half decades without being unseated from her throne as one of the most admired and most bankable movie stars in local cinema. She may have rested in some years during those 45 years to give way to new stars, and yet when a Vilma movie comes out, fans queue the theaters to see her perform. Because of her box-office successes, she was accorded the title—Star for All Seasons.
Above, Vilma through the years—Left downwards: Ging (1963), Sixteen (1970), and Lipad Darna Lipad (1973). Upper right: Burlesk Queen (1975). Lower right: Sister Stella L (1984). Middle below: Anak (2000). Middle main: Vilma today.
Photo: Noel B. Orsal (middle)
THE OTHER URBAN LEGENDS. And now, PEP probes not only one, but three urban legends about Ate Vi:
1) During the late '60s, in an attempt to match her chief rival's career, she also came out with music records. Critics of hers swear she used a ghost singer or singers for these albums.
2) In her first Darna movie, Lipad Darna Lipad, since she was still in her teens, she refused to don the Darna costume without body stockings. So, the producers had to use a body double for some of the scenes.
3) She had a nose-lift and other work done on her face.
ANSWERS. On the first urban legend, PEP again asked the help of Jojo Lim.
"Aminado naman kami, hindi naman ganung kagaling na singer si Vi. Pero hindi siya gumamit ng ghost singer," said Jojo over the phone.
It was the convincing power of her reel and real love team Bobot Mortiz and her manager William Leary that got Vilma to sing.
"Nahihiya pa nga si Vi noon. Hindi naman talaga siya singer, pero kinarir niya," related Jojo. And Vilma's "kinarir" attempt paid off. Her single vinyl (in those days, a single recprding was done in 45 rpm vinyl discs) "Sixteen" reached gold-sales status within days. Not bad for someone who admitted she was not actually a singer.
"Partida pa nga yun. Kahit na manipis ang boses ni Vi, nakuha pa rin niyang kantahin nang maayos ang mga pinapakanta sa kanya. At nag-gold pa!" Jojo proudly said.
Vilma went on to make 19 singles, all hits and getting two gold-record awards ("Sixteen" in 1969 and "Palung-Palo" in 1973).
In Pinoy Rock, Vilma's single, "My Boy Lollipop" is regarded as the very first Pinoy Ska record ever produced. A hit in 1964 by Jamaican bluebeat singer Millie Small, Vilma covered the song in 1969. Ska and bluebeat are Jamaica's fusion of blues, jazz, and Jamaican island beat. They are also the direct ancestors of the Jamaican music style reggae popularized by Bob Marley.
Vilma's waxing of "My Boy Lollipop" made her the first Pinoy "rude girl." The "Rudies" or "Rude Boys and Rude Girls" are Jamaican terms for ska music lovers and musicians.
If Vi admits not being too good in one area, she made it a point to give her best in other fields—acting and dancing. Seventy-five acting awards prove beyond doubt that she is a fantastic actress. As for the dancing—
"Nagsimulang ipakita ni Vi ang galing niya sa pagsayaw nung pinauso niya yung 'The Shaft,' ang usong sayaw noon sa U.S. pagkagaling nila ni Bobot Mortiz doon para sa pelikulang Don't Ever Say Goodbye (1972). Mula noon, lagi nang inaabangan ang mga dance numbers ni Vi dahil sa galing at charisma niya sa pagsasayaw," related Jojo.
Her skills in dancing continued to be admired even until the late '80s to early '90s via the show Vilma! where her dance numbers were always a spectacle because of the lavish production and beautiful choreography.