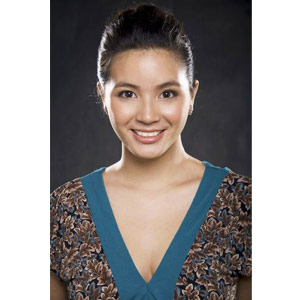 "I got bored with showbiz that's why I went back to school," Paula Peralejo candidly said about her life-changing decision.
Photo: Courtesy of Paula Peralejo
Paula Peralejo never intended to join show business. Her elder sister Rica was part of the famed kiddie-teen show Ang TV and Paula just enjoyed watching her during tapings of the show.
One day the cast lacked some extras for the classroom scene. Rica's road manager Lulu Romero picked out Paula to change into a school uniform.
"I was basically, 'kidnapped,'" Paula remarked over a lunch at a campus café in Quezon City.
It was only when her mom mentioned that she was getting paid from 300 to 500 pesos per episode that she agreed to join the show regularly.
"Going to showbiz was my excuse 'coz I didn't want to go to school," she recalled when asked what enticed her to join show business.
Fast forward to 2008 and the 23-year-old Paula is proud that she is about to earn her Philosophy degree this coming summer from the University of the Philippines. Yearning to learn more, she plans to attend a seminar on Philosophy for Children in the U.S. this coming May.
SHOWBIZ WHIRL. Paula was eight years old when she joined the quintessential show, Ang TV. She enjoyed doing the show so much that she transferred to a school that could accommodate her busy schedule. She was able to balance school and showbiz up until she was in Grade 6.
But when the first day of high school came, Paula didn't find it to her liking.
"Pumasok ako ng high school. Noong pumasok ako, wala, hindi ko na-trip-an yung school ko. So, showbiz was going to be my work. I'm going to work. Give me work because I'm gonna stop school," she said.
From then on, she became part of ABS-CBN shows like Gimik, Home Along da Riles, MTB (Magandang Tanghali Bayan) and Tabing Ilog. She occasionally appeared as a guest performer in Maalala Mo Kaya and Ipaglaban Mo.
It was in Tabing Ilog that she met Trina Zuñiga, who was able to balance both school and show business. Trina told stories to Paula about school with a lot of enthusiasm.

"I got so inspired. She didn't stop school. So, I was like, 'Astig naman'! Iba yung buhay niya. Parang sabi ko, 'Oo nga, parang ang bobo ko na,'" she realized.
So, Paula decided to go back to school. She took the PEP Test [Philippine Educational Placement] to determine her academic aptitude for high school. A program of the Department of Education, PEPT measures one's level of knowledge and, based on the test results, grants official certification that enables the holder to enroll at a higher level of studies. She took the test thrice and was later able to enter college. She enrolled in Veterinary Medicine at De La Salle-Araneta in Caloocan in 2002.
COLLEGE LIFE. Initially, the petite actress was able to handle the pressure of balancing showbiz and school. But she decided that school was too important to miss out.
"Not many people know this but I quit Tabing Ilog because of school. Siguro before I left, siguro mga one more episode na lang. Imagine... ang taping sa Pagsanjan. That's so far, Laguna. And my school was in Caloocan. Taping namin was Wednesday. Ang pasok ko ng Thursday, 8:30 a.m. I-re-release nila ako sa Pagsanjan ng mga 8 a.m. Sa tingin mo pa-paano ako ng 8:30. Hindi, di ba? Kahit nga helicopter, hindi aabot.