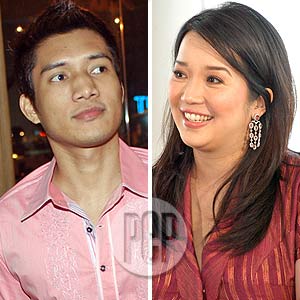 Kris Aquino and James Yap married secretly in a civil ceremony officiated by Mayor Sonny Belmonte on July 10, 2005.
Photo: Emerson
It was an unlikely union right from the start.
A privileged young woman who captured people's hearts as the youngest daughter of an influential yet ill-fated statesman before finding herself within the sheltered walls of Malacañang Palace. Eventually, and against all odds, she inched her way towards the showbiz limelight, gaining both adulation and notoriety by her candidness, particularly in talking about her personal affairs.
Her choice for a partner in 2005 was a different story.
A provincial boy who showed great athletic potential, first in football, then baseball—and finally getting "hooped" on basketball. The dusky boy from Escalante, Negros Occidental, would dribble his way to a better life for himself and his family. All the hard work paid off as he made a name for himself in the amateur ranks as one of the promising breed of young cagers in the country, paving his entrance into the Philippine Basketball Association (PBA) and eventually winning the Most Valuable Player plum on his sophomore year, at the age of 24.
OPPOSITE ENDS OF THE POLE. Aside from contrasting backgrounds, the personalities of Kris Aquino and James Yap hardly match. Popular TV host and movie actress Kris is loquacious and doesn't hesitate to share her life—even her most private affairs— with the public, making her truly tailor-made for the gossip-infested world of show business.
James Yap, on the other hand, is a quiet, shy young man, for all his towering height. He would rather let his fast moves on the basketball court do the talking. Unlike two or three decades ago, athletes are now considered a viable commercial commodity. But James is an old-fashioned competitor who's comfortable doing his job on the court. He feels awkward with all the attention showered on him as a basketball superstar.
"He is the quiet type but he is so good in what he does, which to him is what truly matters," comments Boysie Zamar, James's former coach when he was still playing for the University of the East Red Warriors in the UAAP.

FIRST SPARK. The public was caught off guard when the news broke out that Kris and James were dating exclusively.
According to accounts by people close to the couple, James and Kris were formally introduced to one another by the cager's manager Don Don Monteverde in February 6, 2005.
With James in tow, Monteverde reportedly invited Kris for dinner. James, who was known to have a penchant for chinitas, had confessed to his manager that he had a huge crush on the popular actress-host.
The courtship lasted three months before James proposed on May 4, 2005. Surprisingly, Kris, who used to be very vocal about her love life, was tight- lipped in giving out details regarding the status of her relationship with the sweet-shooting Purefoods swingman.
The closest Kris came to speaking out on the romance was in June 2005. In The Buzz she announced that she was engaged to her boyfriend and they were planning to get married the following year.
Despite the couple's keeping a low profile, news started brewing after a couple of months. Word went around that Kris and James had already tied the knot in a private ceremony witnessed by close friends.
BONDED AS ONE. Kris finally confirmed the rumor in April of 2006, also at The Buzz—yes, she was already Mrs. James Yap.
The simple civil wedding as relayed by Kris took place in Boy Abunda's Quezon City residence, with Mayor Sonny Belmonte sealing the union. The official date of the intimate ceremony was July 10, 2005 at 9:00 in the evening with close friends in attendance. Don Don Monteverde, Bambi Fuentes, JC Buendia and Roberto Arboleda shared the occasion with the glowing couple.
"It was a special night. Beautiful. Casual kami," recalled Boy Abunda when asked to describe the wedding.