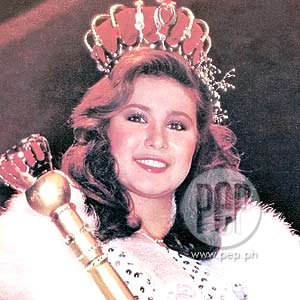 "Maria was bubbly, napakaganda, parang Virgin Mary, maputi, ganda ng paa, kamay, legs, parang doll," Carmi Martin described her
Chicks to Chicks
co-star, Ma. Theresa Carlson (in photo).
Photo: Courtesy of YES! magazine
Some may have forgotten her. Some don't even know her.
Some may still remember her for famous laugh line, "Si ikaw, si ako."
Two weeks after the murder of Nida Blanca in 2001, showbiz was shaken once again by the death of one of its own.
Though Maria Theresa Carlson was not as legendary as the veteran actress, her suicide on November 23 that year was a mystery fraught with tales of extreme suffering after she had faded from the limelight.
Young Maria. Maria was 16 when she came to the Philippines on a visit with her family. Her mother was from Guimba, Nueva Ecija, and her father, a Californian. Born in Manila but raised in San Francisco, the young Maria decided to remain here. It was not difficult convincing her to stay. In a Mr and Ms. magazine interview in 1982, Maria said she had always dreamt of becoming a beauty queen.
In fact, she did become one three years before that interview. She was Miss Young Philippines, 1979. Her title brought her places, literally and figuratively. She represented the country in the Miss Young International Pageant in Tokyo.
The entertainment world was quick to spot her. She was witty, pretty, playful and articulate. Immediately she was cast as a pretty, dumb damsel in distress in the weekly hour-long sitcom Chicks to Chicks. The show was quite successful; male viewers found it funny but women felt offended.
"Si ikaw, si ako" became her laugh line to popularity. She was one of the first Filipino-Americans who made something out of her broken Tagalog.
Soon, movies beckoned. She made a total of seven films, including comedies with Chiquito and with the trio of Tito and Vic Sotto and Joey de Leon.
When Maria Met Rudy. In 1982, Maria Theresa Gerodias Carlson, 19, met Rodolfo Castro Fariñas, 32.
Maria's Chicks to Chicks co-star Freddie Webb introduced them to each other. Freddie recalls, "It was by accident. We were going to play basketball in Laoag. I called up Maritess and asked her if she wanted to watch. She wasn't doing anything so she agreed."
Fariñas, a long time friend of Webb, was then the newly-elected mayor of Laoag City. He was a fast rising political star who wanted to win the heart of Maria, a fast rising showbiz star. A Manila-based magazine called him "a dashing bachelor" and "flamboyant playboy". Fariñas had already fathered two children from a previous liaison.
In a 1996 interview, Maria told the Manila Times that she fell for Rudy because of his name, position, and connections. But she insisted he was more than those things. "He had a great personality, he was down to earth. He is basically a good person—smart, intelligent. He was not corrupt like most politicians you see now. He was a perfect gentlemen."
So, Maria went off to his turf in Laoag. She lived in his home, married him later in Las Vegas, and married him again in a Laoag church.
In the next several elections, Rudy used her as his star campaigner. He called her "Whitey" before the Ilocanos. And they were captivated by her beauty.